January 24, 2023
Reliance Partners CFO bearish on trucking rebound in 2023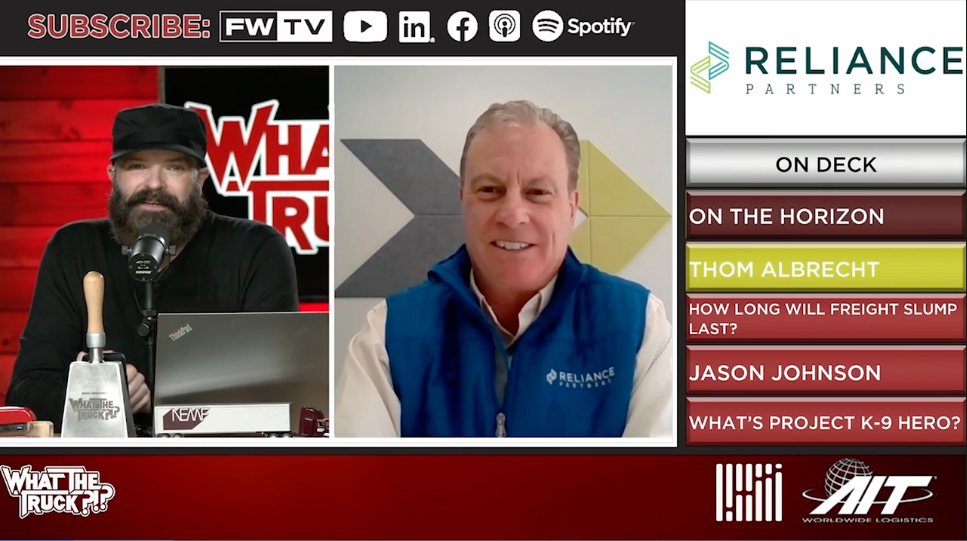 Trucking's dismal bid season may set the tone for 2023.
Thom Albrecht, chief financial officer and chief revenue officer of Reliance Partners, isn't holding his breath for a turnaround. He figures any conversation about the recovery of freight volumes, rates or even profits isn't worth having until possibly 2024.
"Even as volumes pick up a little bit seasonally, it's not going to be very fun from a profit perspective," he said, suggesting that a brutal bid season and lower contract rates may characterize the rest of the year.
Albrecht joined FreightWaves' WHAT THE TRUCK?!? to discuss why he feels bearish on the market this year.
No single issue can explain all of freight's woes, as Albrecht noted that freight comes from different buckets. However, it appears that many buckets are emptying fast.
For instance, industrial production went negative last quarter for the first time since Q2 2020, declining at an annual rate of 1.7%, he noted.
"Keep in mind that from the second quarter of 2021 through the second quarter of 2022, industrial production grew about 5%," Albrecht added. "It's gone negative as corporations have revised their capital expenditure budgets — that's going to be a drag on freight this year."
While final 2022 figures are not in for the S&P 500, Albrecht estimates that corporate capex grew about 15% last year or about 2 times inflation and that in 2023 it is possible that capex will not even keep pace with inflation.
Freight opportunities are also hindered by a sharp correction in housing, as evidenced by decreasing home sales and housing starts. Existing home sales have fallen 11 consecutive months sequentially, while the year-over-year in both November and December was about 35%. Last January existing home sales were an annualized 6.65 million, but by December were just 4.02 million.
Though he doesn't expect a collapse anywhere close to the 74% drop in housing starts between 2005 and 2009, from 2.1 million units to 554,000, Albrecht did note that housing starts dropped 3% in 2022 to 1.553 million and could drop 15% to 20% to perhaps as low as 1.2 million units.