May 24, 2018
Inc. Magazine Recognizes Reliance as a Top Workplace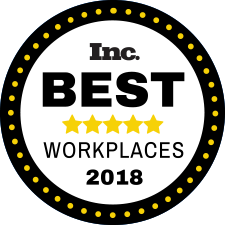 RELIANCE PARTNERS RECOGNIZED AS  A TOP WORKPLACE BY INC. MAGAZINE
Chattanooga, Tenn., May 24, 2018 – Reliance Partners has been named on Inc. magazine's Best Workplaces in 2018, the magazine's annual ranking in the fast-growing private company sector.
Out of thousands of applicants,  Reliance was one of two companies in Tennessee named to the list and one of five companies in the insurance industry. The company has been recognized by numerous publications for its growth and top work environment and was most recently featured in Inc. Magazine as a member of its 500 Fastest Growing Privately-Held Companies in 2017, Inc. Magazine's 2017 'Best Workplaces,' and in Fortune as one of "America's Best Workplaces."
"We're honored that our team and Inc. have recognized Reliance as a Best Workplace," says Reliance Sr. Vice President, Laura Ann Howell. "Our goal at Reliance is to provide and support a road-map to success for every member of the team. Identifying personal and professional goals on the individual level is what makes our collective success as a company possible."
What does it take to become a company that workers want to be part of? Inc. magazine says it's more than good pay and good perks – it's also about having a clear purpose, a sense of humor, and leadership that makes the two work together.
The 2018 Inc. Best Workplaces Awards assessed applicants on the basis of benefits offered and employees' responses. Survey scores account for employer size to level the playing field between small and large businesses. All companies had to have minimum of 10 employees and to be U.S.-based, privately held, and independent – that is, not subsidiaries or divisions of other companies.
"By including an employee survey into this year's Best Workplaces selection process, we've really raised the bar. Companies that don't score at the very top of their peer group don't make the cut. So, our hats are off to the winners. They all excelled at engaging their workers, making them feel appreciated, and aligning them behind a mission. And remember, that's not just our opinion: The employees told us that themselves," says James Ledbetter, Inc. editor-in-chief.
To learn more, please visit us:
LinkedIn: Reliance-Partners
Twitter: @truck_insurance
Facebook: ReliancePartners
Instagram: @ReliancePartners