October 12, 2016
Reliance Partners Named One of the Country's Best Work Places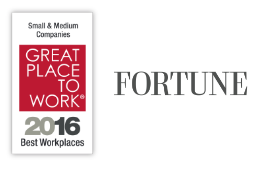 Reliance Partners, LLC was ranked number 21 of the country's Best Small and Medium Workplaces recently announced by consulting firm Great Place to Work® and Fortune. Great Place to Work® reviewed the survey results of more than 52,000 employees from hundreds of companies in the ranking process. Among the findings from the study: trust fuels business performance. For example, the Best Small and Medium Workplaces enjoy roughly three times the revenue growth of their peers, even as they provide a better experience for their people.
"The way we differentiate our company is through our people. We believe in empowering team members to go the extra mile for customers and to over-deliver every time," says Chad Eichelberger, President and COO of Reliance Partners.  "We are honored to be recognized as one of the Country's Best Workplaces."
"There's a generosity of spirit that infuses the Best Small and Medium workplaces—one that has a measurable return," said Kim Peters, Executive Vice President of Great Place to Work. "Whether it's funding employee 'passion projects' or giving surprise gifts to customers, the best workplaces give it away. And they get it back in the form of inspired people who innovate harder and generate higher revenue."
The Best Small and Medium Workplaces is one of a series of rankings by Great Place to Work and Fortune based upon employee survey feedback from Great Place to Work-CertifiedTM organizations.
To learn more about the rankings, follow this link: https://fortune.com/best-small-workplaces/2015/.