August 19, 2022
Apprenticeship Pilot Program Introducing Interstate Trucking to Young Drivers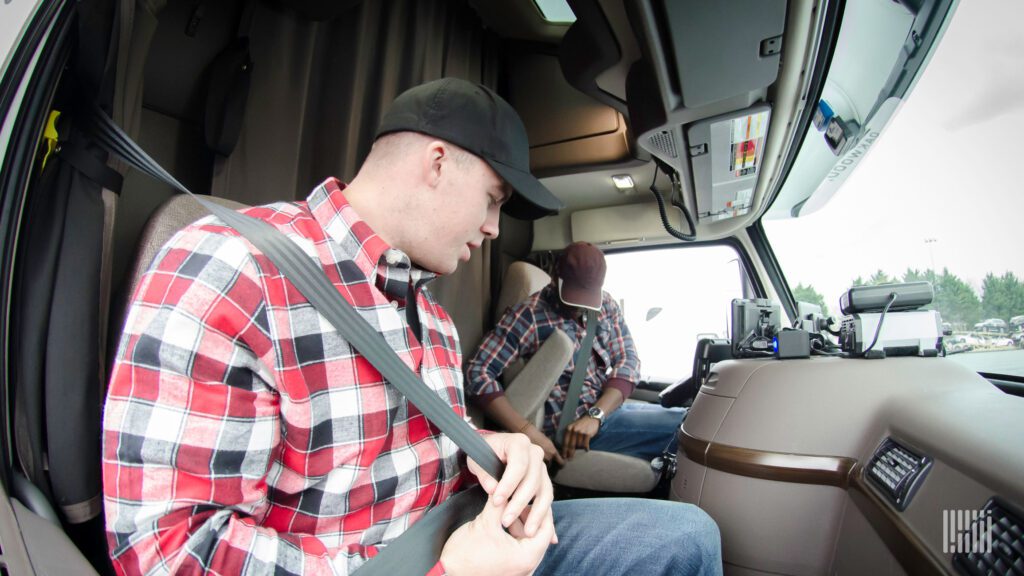 3-year program allows 18-20-year-olds to drive interstate under supervision
Do teenagers belong in a big rig? That's the age-old debate. One side says yes, pointing to the driver shortage, while the other disagrees from a safety perspective.
But it appears that the Federal Motor Carrier Safety Administration is ready to put it to the test, giving those fresh out of high school a chance to prove they're ready for interstate commerce.
Motor carriers on the yea side of the debate have the opportunity to take action through the Safe Driver Apprenticeship Pilot Program (SDAP), which seeks to analyze the safety benefits and risks associated with allowing under-21 drivers to operate in interstate commerce through a supervised apprenticeship program.
Lindsey Trent, co-founder and executive director of the Next Generation in Trucking Association, believes this is exactly what the industry needs as the driver shortage sting is only getting sharper.
"This pilot program is opening it up so that 18- to 20-year-olds will be able to drive across state lines," Trent said. "We're going to get the research and the numbers about making sure that it's safe."
The apprenticeship program will require under-21 drivers to pass competency assessments and complete two probationary periods, of which interstate driving will be permitted under the supervision of an experienced driver in the passenger seat who's at least 26 years of age, has a valid CDL, has at least five years of interstate commercial driving experience and has been employed for the past two years.
Upon completion of the second probationary period, apprentice drivers will be allowed to operate in interstate commerce unsupervised.
Motor carriers looking to get involved with SDAP must first have a Department of Labor-approved apprenticeship program in place to offer apprenticeships and will be required to record and report their findings to the Department of Labor.
The three-year program will collect data on participating drivers until they reach 21 years of age and can operate in interstate commerce without requiring an exemption.
"It's really all about getting statistics to make sure that 18- to 20-year-old drivers are as safe as, say, 30-year-old drivers," Trent said.
Current Federal Motor Carrier Safety Regulations restrict drivers under the age of 21 from operating in interstate commerce, but underage drivers are allowed to operate in intrastate commerce at 18 years old upon receiving a commercial learner's permit or CDL.
Trent calls the nearly century-old interstate ruling "antiquated" as its rigidness is problematic. Though it's intended to keep young and inexperienced drivers from long hauls, it doesn't apply equally to all parts of the map. For instance, an 18-year-old CDL driver from the Chicago suburbs of northwest Indiana can travel 300 miles to the other end of the state but dare not make a quick trip to Chicago under any circumstances.
Trent argues that trucking's restrictive nature has pushed younger generations toward other career paths such as welding or HVAC, despite trucking's reputation as a high-earning profession that doesn't require a college degree.
In fact, she said that the average age of a new truck driver is 39 years old.
But FMCSA is hopeful that SDAP's findings may lead to greater opportunities for future generations of younger drivers — at the very least, it's allowing them to put their foot in the door.
"I think in five years we are gonna see 18- to 20-year-olds be able to drive interstate," Trent added.
Her confidence stems from firsthand experience; Trent is one of the driving forces behind the Next Generation in Trucking Association, a nonprofit education accelerator with the goal of promoting CDL driver and diesel technician programs in high schools and community and technical colleges across the United States.
Next Gen first planted its roots in Patterson High School in Patterson, California, where Next Gen's other founder, Dave Dein, is a high school truck driving coordinator and instructor.
The program opens the door for high school seniors interested in trucking to take a yearlong elective class that combines both in-classroom and around-the-truck lessons. Dein's success caught the attention of many national media outlets, including FreightWaves and Fox News, and Trent noted that 65 high schools nationwide are looking to implement similar programs. And Next Gen is already looking to create a two-year pathway for participating high schools.
Through its mission to train younger drivers, Next Gen views SDAP as an optimal next step for its students before fully beginning their trucking careers.
"We can set them up for not just success in their careers but success on the road because they have extra training that's going to make them the safest possible driver."