October 8, 2020
Crack down on cargo theft with situational awareness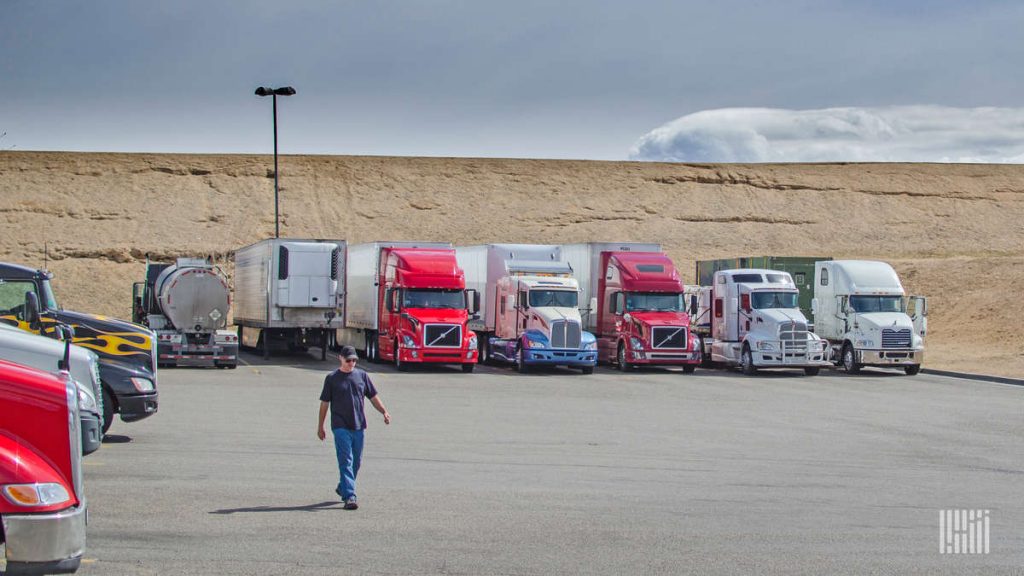 Commercial truck drivers look forward to good meals, warm showers and rest at truck stops after arduous days on the road. But this much-needed period of relaxation can quickly turn stressful for victims of cargo theft.
Driver downtime far too often results in downtime for truck and trailer security too. It only takes a few minutes away from your trailer to become a victim of cargo theft, which is why it's important to take preliminary steps to protect your payload.
Although it's impossible to safeguard your trailer from every threat, risk mitigation can vastly reduce the chances of a theft occurring. Brian Runnels, director of safety at Reliance Partners, explained that the sharpest tool in the fight against theft is relying on your instincts.
"The best way for drivers to protect themselves and their cargo is to always pay attention to where you are, what's going on around you and ask yourself if your parking arrangement is as safe as you can make it," Runnels said.
Runnels warns drivers to be especially careful this Columbus Day as extended weekends are notorious for upticks in cargo theft activity. Memorial Day cargo theft data showed that the average loss due to cargo theft incidents over a two-week span in May was estimated to be $211,788, according to CargoNet. The period's 255 reported theft incidents combined to total $26,473,597 in damages.
But these estimates may very well be higher in actuality. Travelers Transportation Lead Crime and Theft Specialist Scott Cornell asserted that cargo theft figures are gathered on a voluntary reporting basis by companies like CargoNet in what he described as "man-on-the-street polls."
"When you see cargo theft numbers in Texas up 210% year-over year, some of that could just be increased reporting," Cornell said. "However, when you have a number that significant, you can almost bet that there's an increase in theft."
Cornell noted that cargo theft has spiked on a macro level, especially in hot spot states like Texas, Florida, New Jersey, Illinois, Georgia and California — the most targeted state. He explained that these states are at constant risk because of their large economies with high-population densities in addition to their proximity to major ports.
Pilferage, especially of food and beverage products, is on the rise. In fact, Cornell stated that it's more common than full-truckload theft.
"Some thieves will shop loads by breaking the seal on every trailer to choose which one they want the most," Cornell said.
While this may sound like a lesser of two evils, the breaking of the trailer seal can result in the contamination and write-off of the entire trailer, especially for food products. Some contracts between shippers, brokers and carriers may even include broken-seal policies that null the truckload if the seal is broken.
"Even if the seal has been broken on a trailer but only one or two boxes were stolen, there's still a good chance that the customer won't accept the shipment," Runnels said. "The contents might need to be thrown away or donated."
Electronics and household appliances are also prime targets for cargo criminals. High-priced commodities are targeted for obvious reasons and criminals will go to great lengths to plunder a payload. Brandon Richards, chief sales officer at Reliance Partners, warns truckers to be on the lookout for suspicious activity from the moment they leave distribution facilities as he explained that criminals are known to tail drivers for quite some time.
"With high-valued loads, you never want to immediately drive to your yard and sit overnight because that load could disappear," Richards said. "Drivers should be in a position to drive at least 250 miles, perhaps even 300 miles, before making their first stop. It's less likely that someone will follow them that far."
However, this isn't always the case. Richards detailed a story from one of his clients in which his trailer was robbed at a gas station in New Jersey after being followed all the way from El Paso, Texas.
Cornell added that the last thing drivers should do is go straight to the nearest truck stop for fuel and to load up on snacks. He said that drivers should instead take care of these matters before picking up the load.
"Eight out of 10 times robbers are hoping for you to stop within the first 50 miles," Cornell said. He suggests keeping an eye on suspicious cars tailing you for a while as they may be trying to get a better look at your trailer.
Situational awareness of your surroundings can dramatically reduce the chances of a theft occurring. Runnels suggests drivers only park at well-lit rest areas or truck stops, particularly with well-known larger chains. However, he does warn that looks can be deceiving. Drivers unfamiliar with the area or arriving after dark may not be able to distinguish whether or not the location is seedy or in a high-crime area. For this reason, Runnels urges drivers to end their days a bit sooner if possible to weigh their options.
When parking the trailer, Runnels believes it's best to back the trailer up against anything that renders the trailer door inaccessible such as a building, another trailer or even a pole. He also noted not to detach the trailer from the power unit in an unguarded and unfamiliar area.
Cornell added that drivers and fleets should invest in high-security door locks as well as locking devices for landing gear and air valve levers. "If you're not teaching your drivers to use the locks properly, then you've pretty much invested in expensive paperweights," he said.
But cargo loss can occur before the trailer is even loaded. Richards said that truckers need to check shipment documentation before leaving each distributor to review the bill of lading's piece count and to make sure that serial numbers match what is listed on the documents.
Remember that damage to cargo in transit is just as costly as if it were stolen. Drivers should coordinate with the shipper to ensure that their trailer is loaded securely, that the loads are segregated and also have proper airflow ventilation. Richards also reminds refrigerated drivers to always ensure the trailer is precooled to the correct temperature beforehand.
"All of these things are important to remind the driver to eye their loads before the doors are closed to ensure that it's being loaded correctly," Richards said. "I tell my clients that the buck stops with you. You are ultimately responsible for anything that you're hauling down the road."