June 10, 2022
Cross-border trucking interest heats up as Laredo event draws record crowd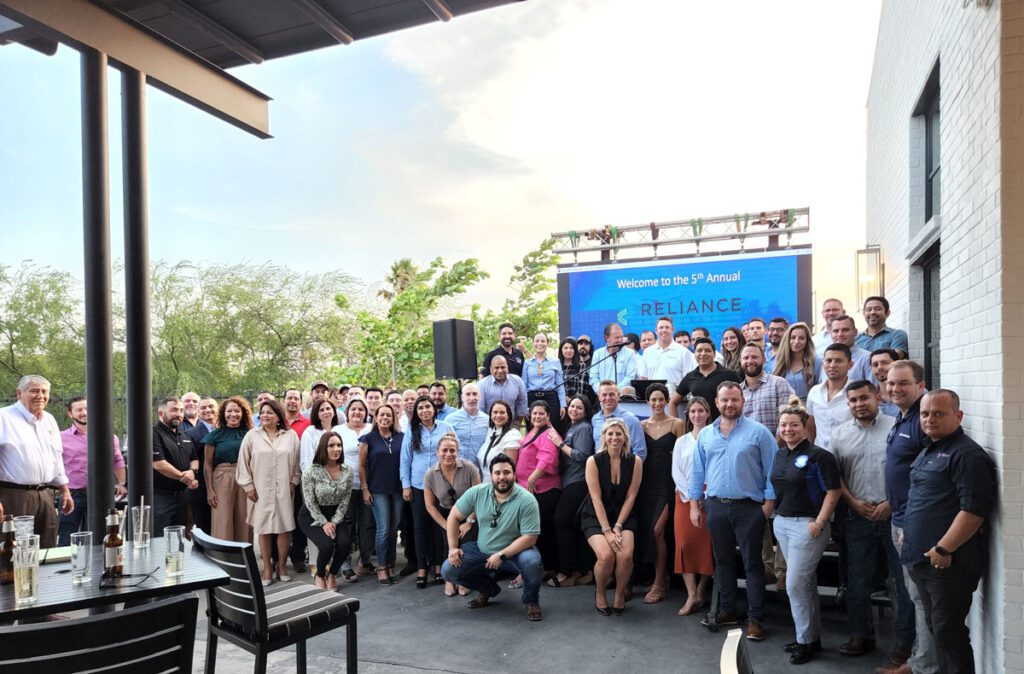 Conference brings 'top technology players and 3PLs in the cross-border market to the No. 1 inland port in America'
While Los Angeles and Long Beach may have the splendor of larger-than-life container ships, the inland port of Laredo, Texas, has proven to be just as capable — if not more efficient than its ocean counterparts.
The inland port's prowess was on full display last month as cross-border leaders convened in Laredo for the 5th Annual Modernization of Cross Border Trade event. Mark Vickers, Reliance Partners' executive vice president of international logistics, was pleased to report that this year's event saw the largest turnout ever with 177 registrants.
Borderless Coverage by Reliance Partners and the Laredo Motor Carriers Association hosted the event, welcoming a number of speakers to speak on the safety and comprehensive insurance programs available for groups that specialize in cross-border trade, including B1 drivers.
"The event brought together the top technology players and 3PLs in the cross-border market to the No. 1 inland port in America, which is also the No. 1 trading point between the United States and Mexico," Vickers said. "The audience consisted of motor carriers wanting to implement best safety practices and better risk management for cross-border [trade] and in Mexico."
Vickers, who was a guest speaker, shared with attendees his expectation for a trucking price swing, predicting that inventories will have an overabundance of products even as pent-up demand from COVID begins to subdue. While this may affect domestic truckload markets, Vickers believes that it won't put a dent in cross-border trade. In fact, he argues that activity in Laredo is ever increasing.
"Companies are nearshoring like crazy; they're bringing their manufacturing or distribution from China to Mexico, so trade between the United States and Mexico is all occurring right here in Laredo," Vickers said. "All of these motor carriers in Laredo are adding more and more trucks to their fleet, so it's a good time to be down here."
Vickers said the guest speakers were similarly optimistic. One was Raul Saucedo, president and CEO of SBGroup, who promoted Mexico's west coast port of Manzanillo as a prime alternative to California ports for U.S. shippers.
SBGroup provides foreign trade zones when handling international freight. FTZs are secure areas under U.S. Customs and Border Protection supervision but considered outside CBP territory. This, in turn, can provide significant savings on customs duties to U.S. manufacturers and distributors.
Saucedo spoke with Vickers and FreightWaves earlier this year, detailing the tax and time savings that FTZs and IMMEX licenses provide shippers.
Real-time visibility is also a must when dealing with cross-border shipments — and it's something that's surprisingly not as widely available south of the border as would be expected.
Attendees were also presented with an inside look into Overhaul, a cross-border, real-time shipment visibility solution from its vice president of business development, Ronald Greene.
Overhaul is waging a war on disconnected data by connecting global, multimodal supply chains onto a single interface that prides itself on proactive risk management strategies to keep shipments safe.
But no cross-border operation is complete without proper insurance coverage. While business in Laredo is booming, Vickers made it clear on stage that things can quickly turn from boom to bust without proper insurance.
His presentation showcased Reliance Partners' Borderless Coverage All-Risk, Shipper's Interest Cargo Insurance, detailing its ability to cover standard and high-value Mexico and international shipments on a per-shipment or per-project basis from the moment of pickup until final delivery regardless of mode.
Reliance Partners' cross-border insurance and consulting has helped guide numerous transportation providers, including B1 drivers, to traverse the border securely and with confidence.
Director of Safety Robert Kaferle also made an appearance at Laredo, where he spoke on the challenges facing B1 drivers today.
"Most safety consultants in the United States aren't versed in the B1 community, so they don't understand the complexities of the challenges that they face," Kaferle said. "So that's why we've immersed ourselves in it, because this is a very underserved community when it comes to safety and compliance."
Kaferle provided clarity around the Department of Transporation's motor vehicle record (MVR) guidelines regarding annual driver certifications. He explained that the driver is no longer required to do an annual self-reporting of accidents or violations; the motor carrier is still required to pull an MVR annually for each driver. Kaferle also clarified that carriers must pull an MVR every year for each one of their drivers, regardless of whether they live in the U.S., Mexico or Canada.
He added that Mexico's MVRs look nothing like the U.S. or Canada's. In fact, he noted that it's actually two separate documents. "It's a document that states whether the driver's commercial license is in good standing while the other document states whether their medical card is current," Kaferle said.
"I don't think there's another insurance provider that has recognized the need to serve this community and fill the void better than we have," Kaferle said. "What sets us apart is our knowledge, not only of the cross-border industry and its complexities, but that we're also involved on both sides of the border with clients, making sure that from start to finish we're representing everybody involved in that transaction."