July 31, 2023
Drivers and carriers commonly overlook these regulations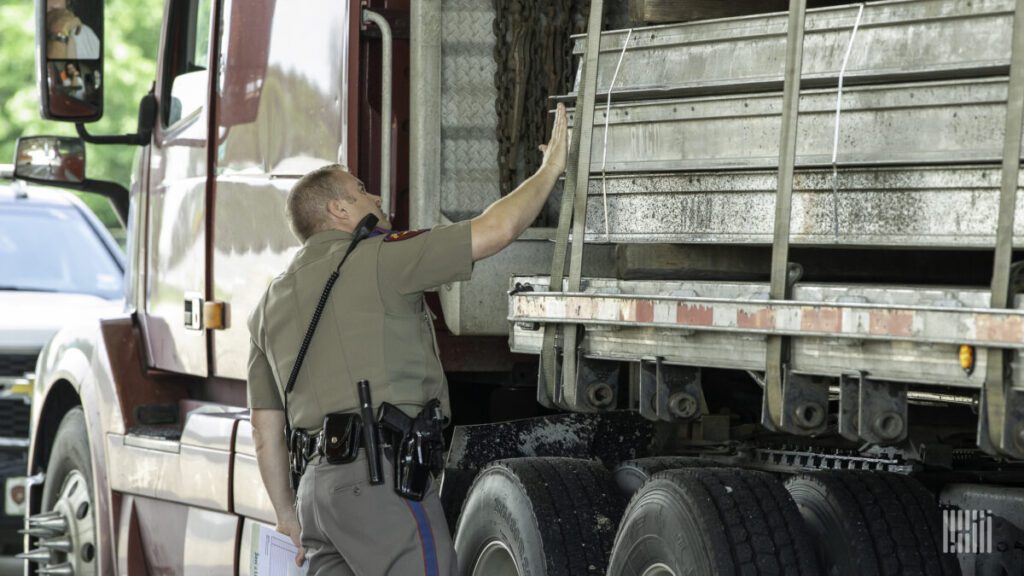 Reliance Partners' Mark Barlar reminds carriers and drivers to stay vigilant with compliance
Trucking is known as a highly regulated industry, and rules are in place for good reason. At its core, Federal Motor Carrier Safety Administration regulations are meant to keep both CDL holders and the general public safe.
Adherence to safety regulations is a daily effort for management, office staff and drivers. But so far in 2023, there have been 1.5 million state and federal roadside inspections, and 57% of them have revealed at least one violation, according to data from FMCSA's Roadside Inspection Visualization Tool.
"People overlook some regulations for a few different reasons. They may not know that something is a requirement, or they don't know where to locate needed paperwork. Or, simply, when a driver is talking to an officer in a roadside inspection, he or she may get nervous and focus on some things and forget others," explained Mark Barlar, director of Department of Transportation regulatory compliance at Reliance Partners.
Reliance Partners is a Tennessee-based freight insurance agency that also offers safety consulting from experts in the industry to help motor carriers improve their safety programs.
Continuous training and education are necessary to ensure everyone stays vigilant about compliance and is informed about regulations, especially for situations that don't crop up on a daily basis but still must be prepared for.
Drawing on 20 years of experience as a former DOT officer, Barlar shared some of the common regulations that motor carriers and drivers tend to overlook, based on each Compliance, Safety, Accountability (CSA) Behavior Analysis and Safety Improvement Category (BASIC):
Hours-of-Service Compliance
In-vehicle information (49 CFR 395.22).

Motor carriers must ensure drivers possess an ELD information packet within their vehicles.  Each is considered its own violation, and they must be in the following order:

ELD user manual.
Data transfer instruction sheet.
ELD malfunction instruction sheet.
A minimum of eight days of blank logs.
Barlar said drivers should know where it is stored in the vehicle and be able to produce it upon an officer's request.
Miscellaneous data (49 CFR 395.8/395.24(c)).

On each log, drivers must verify or input the following details about the vehicle and load into their ELD:
Vehicle unit number.
Trailer unit number.
Bill of lading number.
Vehicle Maintenance
Exterior anti-lock braking system (ABS) lamps (49 CFR 393.55).

  Trailers manufactured on or after March 1, 1998, must be equipped with ABS lamps. Barlar advised that during pre-trip inspections drivers ensure that their ABS lamps are in working condition and are labeled.

Fire extinguishers (49 CFR 393.95).

 Depending on the Underwriters' Laboratories rating, each truck must be equipped with one to two fire extinguishers. "Make sure it's secured down, it has a gauge and the gauge is in the green," Barlar added.
Spare fuses (49 CFR 393.95).

CMVs that require fuses to operate must have at least one spare fuse for each type and size of fuse the vehicle requires.

Emergency warning devices (49 CFR 393.95).

When drivers come to an emergency stop in the middle of a lane or on the shoulder, they must set up three bidirectional emergency reflective triangles, or at least six fuses or three liquid-burning flares as emergency warning devices.
Unsafe Driving
Applicable operating rules (49 CFR 392.2).

This regulation encompasses moving violations like speeding, reckless driving, following too closely, etc. It also includes failure to obey traffic signals, and Barlar said drivers can receive a violation for failing to pull into an open weigh station inspection site. Drivers sometimes fail to pull into weigh stations because it appears closed or the driver is in doubt as to whether it is open. Barlar recommends that when drivers aren't sure what to do, they pull in anyway.
"You're not going to get a violation for pulling in. You're going to get a violation for bypassing it. Most states write that up as failure to obey a traffic control device," he said.
Hazardous Materials
Shipping papers (49 CFR 172.201).

Hazardous shippers must provide carriers with shipping papers. Drivers must keep these papers within reach and visible. Barlar recommends storing them in the driver's door pocket and keeping them in a labeled folder.

Emergency response guidance (49 CFR 172.602).

Drivers must store emergency response guidance in the same manner as shipping papers, within reach and visible.
Driver Fitness
Driving with a suspended CDL (49 CFR 383.23).

CDLs that are suspended for nonsafety reasons without a driver being aware of the suspension is common, Barlar said.
"The DMV will send notice to you at your home address. If you don't get that and you don't realize that your CDL has been suspended, then you're driving on a suspended CDL," he said. "It doesn't matter if you haven't been home to receive the mail."
Controlled Substances/Alcohol
Drug & Alcohol Clearinghouse annual query (49 CFR 382.701).

Motor carriers must run an annual query in the Drug & Alcohol Clearinghouse about each driver to see if any information exists pertaining to the driver's drug and alcohol status.
Crash Indicator
DOT reportable accident (49 CFR 390.5T).

According to FMCSA, an accident must be reported to the DOT under certain circumstances. These circumstances include when a vehicle is towed, when someone needs medical care, or when there is a fatality. Carriers can submit a DataQ request to change the status of a crash if they believe it does not qualify.