September 24, 2020
Final-mile adapts to e-commerce surge and rise in employment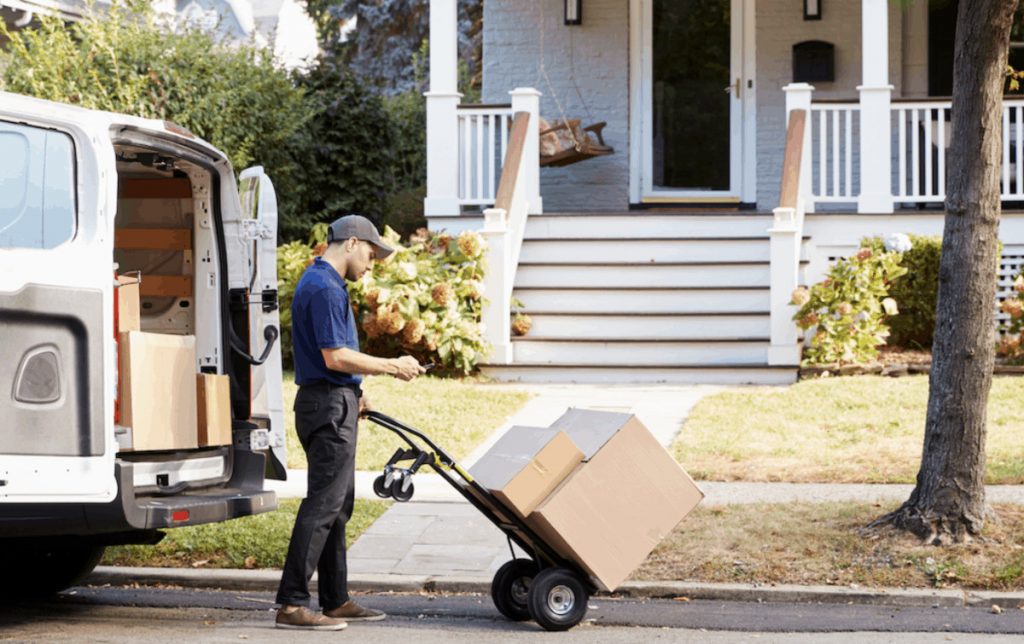 The COVID-19 pandemic may have caused lengthy slowdowns early on across the logistics landscape, but it hasn't prevented courier and final-mile delivery companies from darting across cities. In fact, the sector has adapted quite nicely and looks to remain busy as online retail sales and employment within the sector continue an upward trend.
The addition of 8,000 courier and messenger jobs nationwide in August raised some eyebrows as the sector's total employment figure rose to 923,300 — an increase of more than 100,000 from the year prior. The latest Bureau of Labor Statistics figures show this to be a macro-level trend as rising employment figures characterized most of the industry. Overall, the number of trucking jobs in the U.S. rose by 10,000 in August to 1,449,500.
Most surprising, however, has been the unprecedented surge in global e-commerce sales. While shoppers have often been unable or unwilling to shop at brick-and-mortar retail stores due the threat of contracting the virus, digital marketplaces have quickly become the go-to hub for a growing number of consumer goods.
But if you think this trend has negatively affected big-box retailers, you'd be wrong.
Retail giant Best Buy reported that its quarterly e-commerce sales grew 242% from the previous year and now represents 53% of total sales. America's largest grocery store chain, Walmart, also posted an online sales spike of 97%. As more and more consumers exchange the shopping mall for the mouse pad, the swift uptick in e-commerce has greatly benefited couriers, but can the sector sustain this trend?
Gentry Smith, vice president of sales at Reliance Partners, expects volumes to remain lofty at least through the end of the year as the summer's online shopping season will likely overlap the Christmas retail rush. Although the e-commerce boom of Walmart and other big-box retailers has prevented newcomers from entering the courier industry, Smith suggested that most final-mile companies with a preexisting clientele base have inversely seen growth largely because of e-commerce's growing importance.
As established courier companies continue to hire more drivers, Smith argues that the hiring trend can be sustained as long as each company implements their best employment practices. He urges even the smallest fleets to fully embrace driver training and management safety compliance standards such as safety meetings as well as pre- and post-trip inspections to maximize risk mitigation.
"Recruiting, hiring, training and retaining the right drivers are major factors in driving employment figures," Smith said.
Implementing these routines will not only attract quality driver candidates but will also improve safety scores and reduce insurance rates. These factors are vital for recently established companies to maintain. Smith noted that experiencing a loss during the first couple of years can be a death sentence for couriers as insurance will likely be hard to attain.
Insurance rates for couriers differ slightly from those of a typical over-the-road trucker. Smith explained that couriers historically pay lower premiums because of the nature of their business and drivers' familiarity with their routes within the area of operation, in addition to the cost of cargo and vehicle maintenance being lower. However, he added that significant insurance rate increases due to external factors like "nuclear verdicts" are beginning to contribute to higher auto liability premiums for couriers.
"Whether its a state-based minimum rate or an insurance carrier mandates an increase itself, the pricing is going to start meeting in the middle for couriers and over-the-road companies," Smith said. "It's probably something that couriers should pay attention to as they've historically paid lower premiums."
The U.S. final-mile delivery market is expected to reach a value of $39.5 billion this year — an increase of $6.5 billion year-over-year. Couriers and final-mile delivery companies must learn to balance costs by adapting to the changing freight landscape while at the same time mitigating the risks that contribute to higher insurance rates. Opportunity abounds as demand increases for final-mile services, but taking advantage of the situation requires a disciplined approach to fleet growth and efficient planning.