July 2, 2020
Hurricane season heats up – responding to a big one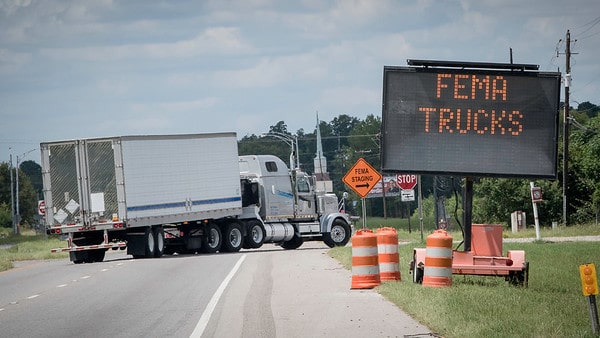 Believe it or not, hurricane season is well underway, which means it's time to keep a close eye on the weather. The Atlantic hurricane season started in June and continues through the end of November; this roughly six-month timeframe presents many opportunities for a storm to wreak havoc on economies and entire infrastructures of coastal communities large and small.
Motor carriers and independent drivers operating within Hurricane Alley need to plan prior to the landfall of a costly storm and consider contingencies in the wake of disaster.
2020 hurricane season outlook
Experts have predicted 2020 to be a very active year for hurricanes in the Atlantic Ocean. Meteorologists with the Colorado State University's (CSU) Tropical Meteorology Project have forecasted 16 named storms for 2020, with eight of them becoming hurricanes (sustained winds of at least 74 mph) and four rated Category 3 or higher.
According to Nick Austin, FreightWaves' Director of Weather Analytics and Senior Meteorologist, August and September are typically the busiest months of the season for hurricanes, but that isn't to suggest we let our guards down; hurricanes can strike at any time, even before hurricane season begins. In fact, two named storms already brushed along the Carolina coastline in May – before the official start of the hurricane season, which was June 1.
"Even though a higher number of storms are predicted to develop this year, you never know where they're going to make landfall," Austin said. "Drivers and carriers along the Southeastern coast as well as the Gulf of Mexico need to be prepared for anything."
Entering July, Austin stated that it's unlikely a named storm will develop in the Atlantic Ocean in the next week to 10 days, partly due to the Saharan dust plume that has actually suppressed hurricane development. The latter-half of the month is when he predicts activity could pick up as the deterioration of the dust plume, along with rising sea surface temperatures could make conditions optimal for a hurricane.
Plan accordingly and hunker down
Truckers operating in and around the path of a hurricane need to think ahead of the storm and act quickly. Reliance Partner's Vice President of Sales, Eddie Claridy, clarified that the first order of business for a motor carrier should be to either hunker down or evacuate. If a motor carrier chooses to keep its assets in the area, it should make sure its equipment is a safe distance away from flood-prone areas.
"I'd assume most truckers in the storm's path are going to park their truck in a safe area like a truck stop on high ground and go be with their families, perhaps even evacuate with them," Claridy said. "We often forget that truckers have families themselves."
Truck and trailer owners shouldn't worry too much about the potential risk of storm surge and other hurricane-related damage as long as they have the right insurance coverage in place. Claridy noted that comprehensive physical damage coverage should be sufficient to protect from financial loss.
Claridy recommends making sure that truck drivers and companies know the ins and outs of their physical damage coverage before the onset of hurricane season. He added that policyholders should review their deductible and as well as ensure they're sufficiently covered for any liens on the equipment.
"There are a lot of moving parts when it comes to preparing for hurricane season and everybody has a different plan," Claridy said. "If you're in the business of getting goods and services to those affected by the storm, you're going to need a plan in place before the hurricane hits. You must also be willing to adjust according to its severity and predicted landfall location."
Many drivers choose instead to haul last-minute loads from at-risk regions to destinations out of harm's way. For instance, a driver in Ft. Lauderdale may find it profitable to haul a load to a safe inland location like Nashville, Tennessee and stay put until the storm passes. Afterward, the driver could either look for loads destined for South Florida or find ways to help with relief efforts.
When zero hour arrives – the time at which a hurricane makes landfall – truck drivers in the immediate path of a hurricane or tropical storm should not participate in freight movements of any kind. One trucker learned this lesson the hard way and ultimately lost his life in 2004 while driving through storm-ravaged Pensacola, Florida during Hurricane Ivan. Truck driver Roberto Molina Alvarado was hauling fruits and vegetables from Brownsville, Texas to Miami when his vehicle fell over a collapsed section of the heavily damaged Interstate-10 Escambia Bay Bridge, resulting in his drowning.
Post-hurricane freight response
Truck drivers know that devastating storms often produce an abundance of freight-hauling opportunities. Afflicted cities will be in desperate need of construction materials and equipment, non-perishable foods, water, generators, temporary housing units, and many more items for weeks or even months after a major storm.
A major way in which transportation and logistics providers can support relief efforts is by hauling FEMA (Federal Emergency Management Agency) trailers of essential items.
Freight brokers and large asset-based providers will bid on FEMA contracts as early as a week or two before a hurricane's impact. According to Reliance Partners' President Chad Eichelberger, when a hurricane is expected to strike the Southeast, FEMA will typically pull and strategically position supplies from either its Atlanta or Fort Worth distribution centers.
FEMA provides a request for quotes generally to three to five transportation providers when they issue a transportation service order. Eichelberger further explained that the quotes often require the use of drop trailers or sometimes drivers to perform ongoing daily drayage work in support of the bids. FEMA specifies the number of trucks, trailer types, pickup guidelines and a timeline for response.
Claridy explained that trailer leasing companies within a couple of hundred miles of the impacted region will lease out as many trailers as possible, especially refrigerated units for communities without electricity. Eichelberger added that it's common for leased trailer capacity to become constrained in these areas, causing trailers to be pulled from markets adjacent to its distribution centers.
Always use your best judgment when driving through impacted areas and keep in mind that your vehicle will be susceptible to roadway risks long after the storm passes. Scattered debris may contribute to traffic delays, road closures and can even damage your equipment.
Remember, too, that affected areas may lack power. Food and shopping options may be scarce so it's smart to stockpile non-perishable food items as well as batteries and chargers for your electronic devices when operating in storm-impacted regions.