October 22, 2020
K9 co-pilots: What to consider before before hitting the road with Fido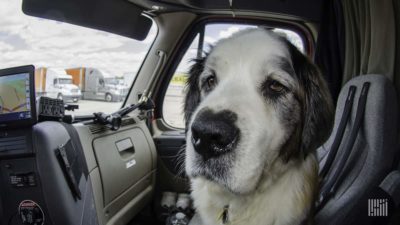 Dogs have long held the title of "man's best friend" as they've accompanied workers for centuries. This is true for generations of truckers who've relied on K9 companionship. While some consider pets messy and even view them as safety liabilities, the industry as a whole has generally become more pet-friendly.
Brian Runnels, director of safety at Reliance Partners, suggests driving with pets shouldn't be an issue as long as you're a responsible owner and safe driver.
"It's nice to have companionship on the road, especially for drivers who spend extended periods of time away from home," Runnels said.
Runnels explained that it wasn't too long ago that many motor carriers wouldn't allow pets in the cab for fear that they could make messes, or worse, damage the interior. However, sentiments are changing. In fact, many trucking companies are realizing the benefits of driver pet ownership and loosening their restrictions to attract more drivers.
Truck stops are also catering to road dog truckers. Love's Travel Stops, for example, added dog parks to 33 of its locations nationwide between 2018 and 2019. The company states that each dog park is 50 by 100 feet and includes double air-locked gates for pet safety. Areas for off-leash roaming are also provided, in addition to pet waste stations.
Carrier policies vary, however, and truckers should keep in mind that some may only allow pets that match certain specifications to ride shotgun.
For example, alltrucking.com reports that J.B. Hunt doesn't allow dogs weighing more than 60 pounds and from an aggressive breed. Drivers must also pay a $300 pet deposit. On the other hand, Roehl Transport fully embraces pet ownership and even features stories about drivers and their pets on the company Facebook page called "Pawsitively Roehl." Its only requirement is that pets be spayed or neutered. Further, Roehl offers exercise areas for dogs at its terminals. In addition, each truck is equipped with special waste receptacles for easy pet cleanups.
But life on the road isn't for everyone — including dogs. Runnels urges truckers to carefully weigh the pros and cons of over-the-road pet ownership.
"When taking responsibility for someone other than yourself, whether it be a pet or another person, you definitely have to take into account what you'll be able to do."
For instance, truckers should be willing to alter their routines to accommodate bathing, feeding and bathroom breaks. Ultimately, they should ask themselves whether their dog will enjoy life on the go. Regional or short-haul drivers may find it easier to leave them at home while on duty.
"Will you typically spend extended periods of time outside of the truck in which the dog will be left alone?" Runnels said. "If you had to take a 34-hour restart on the road, will you be able to spend that time with the truck instead of leaving it unattended for hours on end?"
Pets have accompanied long-haul truckers for many years without many issues. However, a number of drivers have pushed for hours-of-service (HOS) exemptions to accommodate drivers with pets.
A request by the Small Business in Transportation Coalition (SBTC) asked the Federal Motor Carrier Safety Administration (FMCSA) to allow drivers with pet companions to drive up to 13 hours during a work shift and to operate within a 16-hour window, which extends beyond the current driving limits. FMCSA denied the request as it couldn't ensure safety levels would be maintained if it were approved.
Runnels agreed with the FMCSA's ruling. He said he doesn't see a need to ease regulations when calls to do so haven't been brought up in the past.
"Truckers have been traveling with pets for years within the previous HOS regulations. I don't see why there needs to be any exemption for someone traveling with a pet," Runnels said. "People are just trying to bend every angle to get some sort of exemption from the HOS."
He continued, "I had a dog when I was driving but I didn't need an additional three hours to do that."
Although Runnels sides with FMCSA on its decision, he believes that drivers with pets should take more breaks anyway. He suggests that taking care of a dog while on the road forces drivers to stop more often, which can be especially refreshing for truckers used to hauling up to 11 hours straight.
Whether or not pets are safety liabilities has been debated over the years as well. Most recently, transportation lawyer Cassandra Gaines appeared on an episode of "Fuller Speed Ahead" to share her opinion on the matter.
Gaines recalled representing a driver who had an accident on a snowy road while a dog was in the cab. Despite the icy conditions contributing to multiple accidents that day, the plaintiff's attorney targeted this specific driver, claiming that the driver could have pressed the brakes sooner to avoid the accident if the animal had not been in the cab.
"Plaintiff attorneys like to hear that a dog is in the cab because they can say that dog was distracting even if it wasn't distracting," Gaines said. "Because they don't usually side with trucking companies, jurors tend to believe that the dog was distracting."
Runnels acknowledged that while it is possible for pets to play a part in an accident, he finds it very unlikely based on his experience. He argues that while distracted driving could be blamed on pets, it can as readily be blamed on listening to the radio too loudly or using a cell phone.
"I'm sure there are isolated cases in which dogs have gone under the driver's feet because they were scared or perhaps cases where dogs have bitten someone at a truckstop, but overall I struggle to find a safety issue that should prevent animals from being in the truck," Runnels said. "There's a million and one things that lawyers are going to look for to say that the driver was distracted."