July 7, 2022
Planning early the only way to ensure a parking spot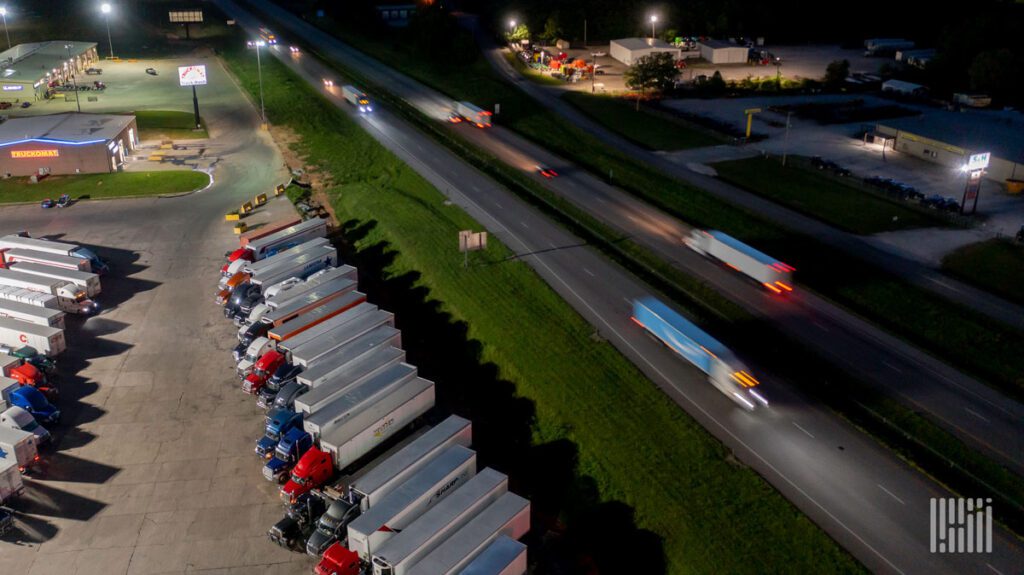 Leave more time to find parking at the end of your shift
It's late and you've had a long day — time to call it a night. Thankfully, a couple of truck stops are just ahead.
Much like a sailor spotting land, the first sight of tall, illuminated signs down a highway is a welcoming beacon for weary drivers. You know that just below the cluster of lights wait a warm shower, hearty meal and good night's rest.
But upon arrival, relief quickly turns to dread as the lot is full. You try the truck stop next door, but it's crowded as well. What was to be an uneventful evening has now turned into a race against the clock as you realize that you're nearing the end of your available drive time.
With few options, you find yourself settling for a sketchy parking lot where you get little sleep as you anxiously await the sunrise.
But it wasn't bad luck that landed you here; it was probably poor trip planning. As Reliance Partners Vice President of Safety Brian Runnels would ask, why did you wait so long to park?
"If you get into a place any later than 5 or 6 o'clock, then know that you may not find a place to park," Runnels said. "It's imperative to try to plan as early as you can and know that if you're driving late into the evening, there's the potential for parking issues depending on where you're at."
Even the most responsible drivers sometimes find themselves victims of no vacancy.
The American Trucking Associations notes that 98% of drivers report having problems finding safe truck parking. Worse, 58% of drivers admit to parking illegally at least three times per week, and a TruckerPath survey found that 70% admittedly violate HOS to find parking.
Parking has become scarce in recent years as the freight industry continues to grow by leaps and bounds. Runnels argues that the popularity of more regional jobs has clustered drivers in already congested areas, leaving long-haul drivers with few options upon arrival.
He urges drivers, especially in high-traffic areas such as the Interstate 95 or 75 corridors, to allot more time for parking, making sure they address it in their trip planning.
Runnels suggests first asking the shipper or receiver if they have parking available. Your second option is to give yourself more time to seek a parking alternative.
If time is on your side, don't be afraid to be picky; it's best to choose a truck stop with the right qualities. For instance, be sure it's well lit and in a good area. Runnels prefers reputable chains and ones outside of major metropolitan areas, explaining that truck stops near large cities are prone to crime.
"Don't park in the back if you can avoid it … but if it's late at night, you'll have to take any parking spot you can get."
At crowded rest areas and exit ramps, a lot of truckers park on the shoulders of those ramps. While there isn't a federal law prohibiting this, Runnels said that each state, county and even city may have different guidelines and laws. Nonetheless, he said this option is at least safer than parking on the off-ramp where vehicles pass you at much faster speeds.
A parking spot is never promised at the end of your day, but proper trip planning can help resolve the issue. Don't push the limits of your time or well-being. Plan early and plan often — you'll be glad you did after a good night's rest.