October 3, 2022
Roadcheck results: Brakes and tires once again top the charts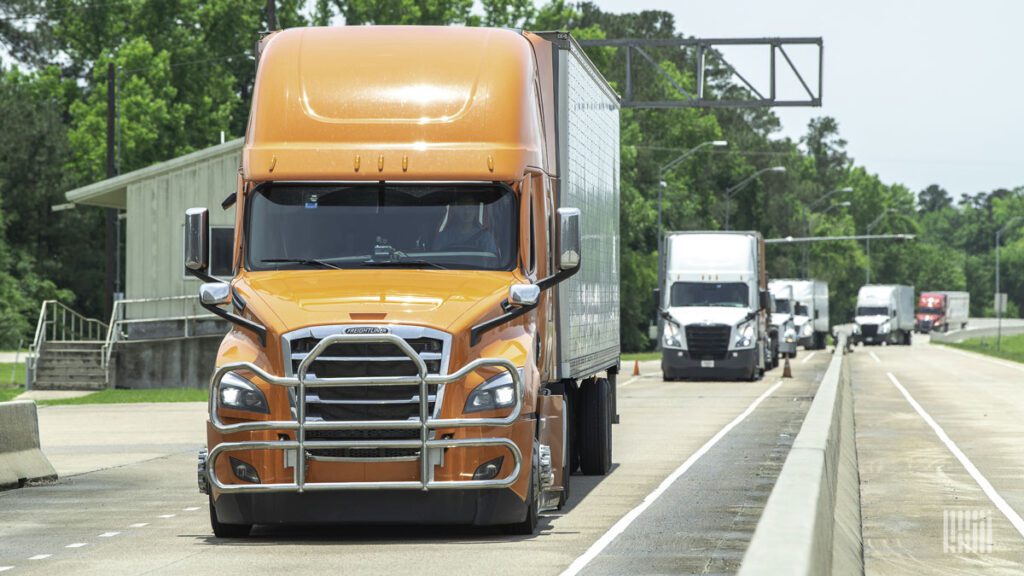 More thorough pre-trips encouraged for drivers to identify issues within their control
The Roadcheck results are in: Tires and brakes once again sidelined more drivers than any other vehicle violation.
The Commercial Vehicle Safety Alliance's (CVSA) International Roadcheck, which took place over a 72-hour period in May, saw inspectors conduct 58,287 North American Standard Inspections, of which approximately 62% were Level I inspections and 21% were Level II.
Brake systems accounted for 25.2% of the vehicle out-of-service violations recorded this year; tires violations made up 18.5%. Proportionally, these percentages are nearly identical to 2021's Roadcheck — 26.5% and 18.6%, respectively.
Top Five OOS Vehicle Violations (US, Mexico and Canada)
| | | | | | |
| --- | --- | --- | --- | --- | --- |
| 2022 | Number | Percentage | 2021 | Number | Percentage |
| Brake systems | 4,592 | 25.2% | Brake systems | 2,564 | 26.5% |
| Tires | 3,374 | 18.5% | Tires | 1,804 | 18.6% |
| Defective service brakes | 2,309 | 12.7% | Lights | 1,367 | 14.1% |
| Lights | 2,219 | 12.2% | Brake adjustment | 1,203 | 12.4% |
| Cargo securement | 1,934 | 10.6% | Cargo securement | 1,192 | 12.3% |
Brian Runnels, Reliance Partners' Vice President of Safety, isn't surprised by the findings, as he explained that brake and tire violations will almost always take you off the road.
With brake systems specifically, any number of defects can land you a violation, such as an air leak from a crimped hose, a broken air canister or a cracked brake pad. Runnels said inspectors will even sideline you if 20% or more of your brakes are out of adjustment.
Though each incident is ultimately the responsibility of each driver, Runnels believes that drivers shouldn't receive all the heat when it comes to brake adjustments.
"I wish some of these [violations] didn't count against the driver because sometimes they don't have any way to check to see if they're out of adjustment," Runnels said. "It's hard for a driver to know what the adjustments on their brakes are."
But the process itself can be tedious. It's a two-person job that requires one to push on the brake pedal while the other to climb under the truck to measure the distance the push rod travels to meet the air chamber, usually marked with a chalk line.
"On some brakes, it can travel between an inch and a half and two and a half inches depending on type of brake system," Runnels said. "If it's in that space, it's an adjustment; if it's out of that space, it's not."
A simpler test that can be done every morning involves firmly pushing down on the brake pedal, holding it for a few seconds before letting up. "That is supposed to bring a brake back into adjustment. If it doesn't, that means the slack adjusters are bad — but a driver wouldn't know that."
Some drivers, Runnels added, aren't even allowed to touch their own brakes since the introduction of automatic slack adjusters. And with regulations requiring companies to have their equipment inspected only once a year, he said it's no wonder why so many brakes are out of adjustment.
Though their hands may be tied when it comes to certain aspects of maintenance, Runnels said drivers should never underestimate the effectiveness of a proper pre-trip inspection to catch issues.
"It's always tires, lights, brakes," he said of the most common Roadcheck violations. "When we talk to drivers about doing a good pre-trip inspection, those are the areas that you want to focus on the most."
You might not be able or know how to check your brake adjustment, but that doesn't mean you can't give your brake pads a look. Runnels said the same goes for your brake drums, listening to the air hoses for leaks, as well as inspecting the mechanical pieces that make up the rest of the brake system.
You'll be surprised by how much a simple pre-trip can uncover.