July 8, 2021
Safety check: No carrier thinks it's 'unsafe'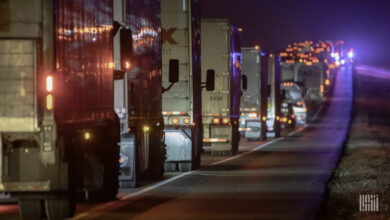 With tight deadlines and big money on the line, it's easy to see why some carriers are led astray by service-based metrics, placing driver performance in the back seat.
It's safe to assume that the thought of endangering other motorists almost never crosses truckers' minds when they start their day, but it's likely that many are inadvertently rolling the dice each time they climb up into the cab.
Safety is perhaps the most talked about topic in trucking today, as many carriers have made it a focal point in gauging success. But with tight deadlines and big money on the line, it's easy to see why some are led astray by service-based metrics, placing driver performance in the back seat.
Reliance Partners Director of Safety Robert Kaferle has seen it time and time again: a reluctance of carriers to check the true nature of their safety habits.
"A lot of carriers kind of look the other way," Kaferle said. "I've heard it more times than I can count, 'They're a really good driver,' but upon digging into their history and violations, you may find that they're in need of some retraining."
It's not that carriers value recklessness, rather it's just that many chase short-term successes without giving thought to the long-term repercussions when things go wrong.
Kaferle said that it's not uncommon for drivers to be given loads that push the limits of their hours of service. For drivers, especially inexperienced ones looking to impress their superiors, being told to "do the best they can" increases the probability for error.
In some cases, carriers are willing to press their luck in the name of driver retention. The process of hiring good talent — and keeping them — isn't easy, but tolerating the risk in dispatching drivers with less than ideal performance isn't the answer.
In his experience, fleet safety is prioritized largely by larger carriers, as Kaferle explained that smaller fleets are more prone to value performance while overlooking certain risks only until they become critical issues, often due to their desire to make headway in the industry by keeping their trailers loaded and trucks moving constantly.
Kaferle also comes across carriers lacking knowledge of safety management system scores or even the basics on using safety systems themselves. But an even greater issue is trucking companies naively conflating "experience" with "safety."
Kaferle explained, "'Bill is a great driver; he is never late.' Well, the reality is that Bill has had a couple minor accidents and several recent violations in the past three years. Although he delivers on time, is he really a good driver?"
"[As an industry], we certainly want to provide a service, but at what cost? We don't want an unsafe driver trying to make a delivery on time when encountering rush-hour traffic."
Whether a carrier is haphazardly bending a few rules or perhaps just unsure of the integrity of the safety culture, now's the time for a reality check.
Kaferle spoke extensively about the benefits of constructive criticism earlier with FreightWaves. While it's not always easy to hear, the willingness to heed the advice of a safety expert is one of the smartest investments a motor carrier can make.
Reliance Partners' risk services team works closely with motor carriers to identify potential gaps in regulation compliance and offers strategic guidance for corrective action.
All it takes is one accident to devastate a trucking company, regardless of size. If a carrier is cutting corners and isn't retraining their drivers and road-testing them, enforcing progressive disciplinary action against repeat offenders and terminating drivers when performance fails to improve, these factors will certainly be scrutinized when a carrier is under litigation, Kaferle warned.
"It's critical for us safety consultants to ask the hard questions because somebody will eventually be asking them, and by that time, it might already be too late to fix anything," he said.
Kaferle urges all motor carriers to consider safety consulting as an invaluable investment. The benefits of working with a risk services team far outweigh the alternatives — often a litigious death knell. In addition, he said experts can provide carriers with a plethora of other resources to maintain fleet safety, such as the FMCSA Forms Library.
The Forms Library provides example forms and templates to help demonstrate compliance with safety regulations. These guidance documents, such as a compliance questionnaire, annual vehicle inspection report, driver qualification file checklist, drug testing custody form and examples of drivers' records of duty or time cards, among other documents, can be downloaded and printed free of charge.
"The first thing I do when I talk to a carrier customer is expound on my transportation background so I can explain that what I'm telling them isn't coming from something I've read or learned in college, it's based on my experience sitting in their seat," Kaferle said. "When making recommendations during our discussions, I feel that they're more receptive — I think there's some leverage I have in being a former driver and being in their seat as well."
Regardless of one's record of safety, carriers wanting to actively improve driver performance should consider safety consulting as one of their first to-dos.
Compare driver safety to weight loss: Dieting and exercising are crucial, but equally important is stepping on the scale to measure your progress. Motor carriers may think they're running things "safely," but to what extent?
Ask yourself: Is there room for improvement? You already know the answer.