October 13, 2022
Staying warm key to surviving winter emergency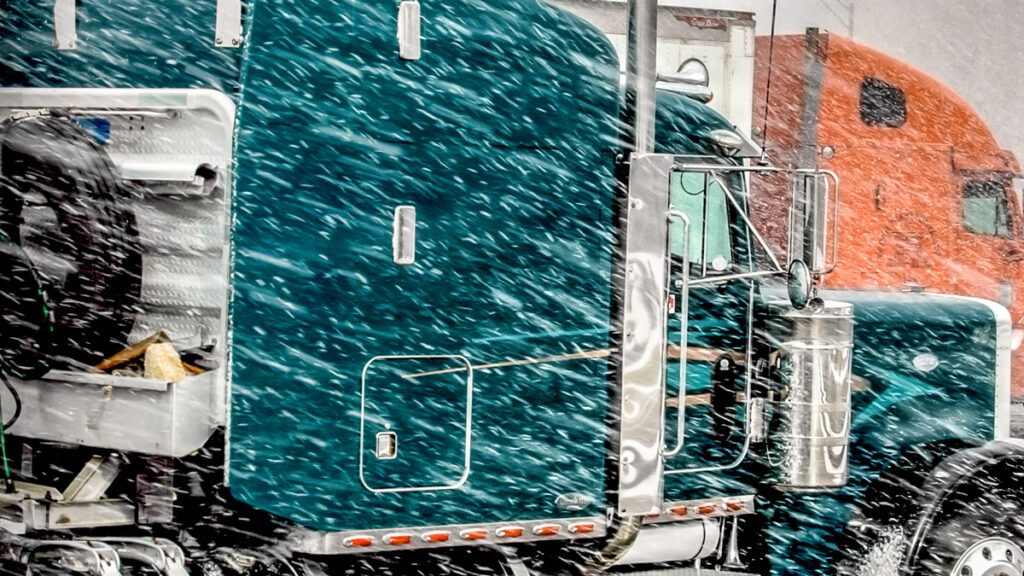 'You need to be doing something, but really sometimes doing nothing is the best thing'
Winter is just around the corner, bringing with it colder weather, snow and ice — are you prepared?
While the leaves are still orange and red and the breeze just slightly cool, truckers may not want to think about the sub-zero conditions or frigid, icy and snow-packed routes that many will journey in the upcoming months. However, properly planning for winter driving may well save your life if you're ever stranded in the cold.
"It's the mentality that, 'It'll never happen to me,' but in reality it happens to somebody," said Reliance Partners Vice President of Safety Robert Kaferle.
Weather can change without warning, especially during the winter. The best way to avoid being stranded is to check the weather forecast before starting the day and, if possible, avoid routes prone to winter weather hazards.
Cross-country truckers, Kaferle explained, will often take more Southern routes to avoid the snow-capped Rocky and Sierra Nevada mountains when conditions worsen. Though it tacks on extra miles, it's well worth it to reduce the risk.
Even after you do your best to check the weather and avoid potentially unsafe routes, you might find yourself stranded in a snow-covered traffic jam this winter. If you are faced with this situation, remember it's wise to remain in the vehicle. While it might be tempting to try to brave the inclement weather to get to a truck stop, if you're unfamiliar with the area, this is a risk not worth taking.
"Every year I read about people stranded in the mountains of California or somewhere that got lost," Kaferle said. "And though authorities find their vehicle, the drivers decided to walk away. It's tragic. Help will find you a lot quicker if you stay where you're at instead of moving around."
With today's technology, a trucker's company is likely to know their position already, but it's still advisable to alert them of the situation. In the age of smartphones, keeping in touch with one's family has also never been easier.
Kaferle said a trucker's goal is to be self-sufficient until somebody can help, which is generally 24-48 hours — but maybe longer.
"There's all kinds of things that can save your life that don't cost much nor necessarily weigh a lot or take up space," Kaferle said.
Winter gear you can't go without
Stock up your pantry
Water — multipack bottles or gallon jugs.
Nonperishable food and snacks.
Nothing too fancy — granola bars, sandwiches, chips and beef jerky will do just fine. Consider meals that can be easily prepared without much heating or cooking.
Layers, layers, layers
Jackets, sweatshirts, coats — wear multiple layers.
Thermal pants.
Thermal socks.
Beanie/toboggan hat.
Insulated face mask.
Earmuffs.
Gloves.
Hand and foot warmers.
Blankets.
Mylar emergency blanket.
Heat sources and safety devices
Electric space heater.
Candles.
Matches.
Carbon monoxide detector.
Fire extinguisher.
Safety flares and triangles.
Candles, too, are quite useful. The inexpensive light source can provide ample heating and even be used to heat up water. But remember to keep a window slightly open for ventilation at all times when using candles, as Kaferle warns of the dangers of asphyxiation.
On a similar note, regarding space heaters, use only an electric space heater when heating the inside of a vehicle as it doesn't emit carbon monoxide. Regardless, ventilation is still advised.
Kaferle also suggests not covering your windows to shield yourself from the cold. Though it seems like a rational solution, it's important to maintain visibility, not only for you to monitor the situation outside but also for first responders and others to easily check on your well-being.
Electronics
Phone charger.
Fully charged portable charger (battery) for USB devices.
Weather radio.
Flashlight.
Miscellaneous
Toilet paper.
Hand sanitizer.
Books and magazines.
Downloaded podcasts and music.
Cards/games.
"You need to be doing something, but really sometimes doing nothing is the best thing," said Kaferle in advising drivers to keep themselves entertained until help arrives.
Be sure to have a collection of books or magazines on board and consider downloading a few podcasts via Wi-Fi at the next truck stop you visit.
Lastly, Kaferle said to remember to update your log book with your current duty status.
"You need to make a notation in your hours of service so your company knows exactly what's going on at that time," said Kaferle, noting that making updates immediately rather than later will help you keep the record straight. "It's clear today what happened … but seven days in the future, you may not be able to remember."
CFR Section 395.1 outlines weather exemptions when driving conditions worsen and during emergency situations. In short, during adverse conditions in which the driver cannot safely complete their run within their maximum driving time or duty time, the trucker may be allowed or required to drive no more than two additional hours beyond the maximum allowed hours to complete their run or reach a place of safety.
Kaferle said he would say something like "Utilizing Adverse Condition Exemption" to show the extra time on logs. In addition, he suggests notifying your company and receiving authorization so that it is aware of the 11-hour-rule violation that will show up on your internal log audits.