May 30, 2023
Team driving may be profitable, but is it right for everyone?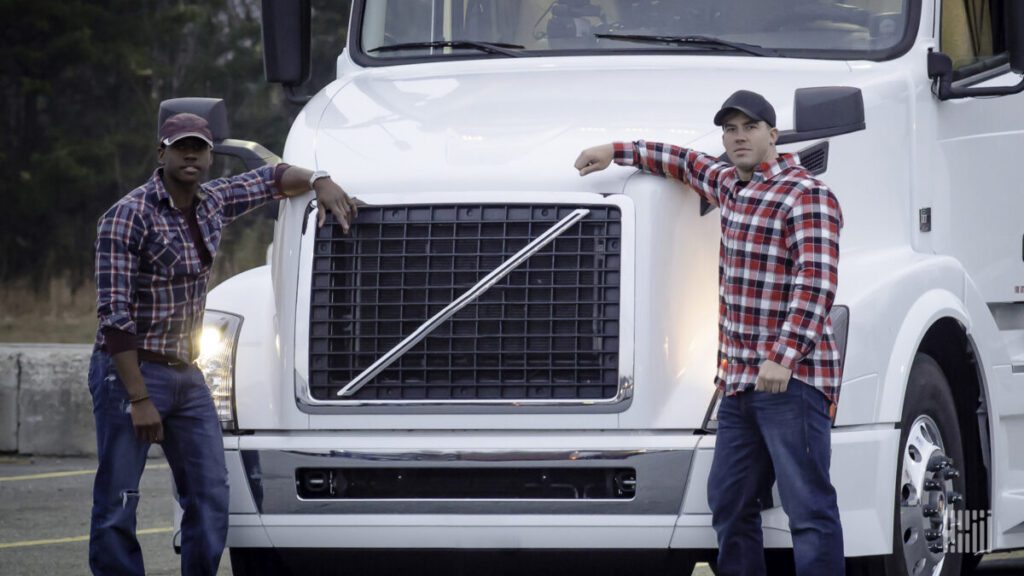 Reliance Partners' Brian Runnels shares his experience team driving and what to consider before starting
When it comes to truck driving, two might be better than one. 
Team driving is by nature more productive than solo driving, which is why it's appealing to carriers; after all, with two drivers taking turns driving and resting, the pair can make deliveries in half the time one person could.
"One big advantage to running as a team is that you don't do a lot of unloading, sitting and waiting," explained Brian Runnels, VP of safety at Reliance Partners, a Tennessee-based trucking insurance agency. Runnels is a former truck driver with more than 2 million miles logged in his career. "Companies that are utilizing teams don't want their drivers to be idle, so they do a lot of dropping and hooking."
Team driving means more miles, less downtime and at some companies, Runnels said, even a pay boost for the inconvenience of sharing a space.
While it's certainly true that whether you earn more as a team driver or solo driver varies from company to company and involves a range of other factors as well, the potential for more earnings as a team driver is there. 
For many truck drivers, the prospect of more earnings and less idle time is appealing. However, constantly sharing a confined space with another person — who in some cases you may not know — isn't for everyone. 
Runnels was lucky; during his career, he had team driving experiences with his father as well as a dedicated run with his best friend later on.
"I've been fortunate in my team experience that it was really all good; I didn't have a problem with it," he said. "I trusted the drivers I was with, and that made it easier to sleep. If you can't trust the guy behind the wheel, you have a real hard time sleeping."
Runnels returned to the word "trust" repeatedly. If you're uncomfortable with your partner's driving habits or that person has less experience than you, would you be fine with releasing control when it's his or her turn to get behind the wheel at night or in bad weather? If not, then team driving may not be for you.
Trust could be part of the reason why team driving works well for married couples. It also means not having to spend days at a time away from your spouse.
What's more, if your co-driver is your spouse, household earnings can double. "If you're a husband and wife team, and you're just rolling those miles, on the higher end you could hit 5,500 to 6,000 a week, that's a good amount of money going to the same place," Runnels said.
However, the near-constant operation of a truck poses some financial challenges for team drivers. If the team is also the owner-operator, both could be out of work when the truck needs repairs, and their bottom line could take a hit.
Another consideration for companies and owner-operators is insurance. Depending on your insurer, the truck owner may end up paying higher premiums. Some insurers determine rates on a mileage basis, Runnels said.
"Something else that gets taken into consideration by some insurance companies is that if trucks are running day and night, somebody is running at the times when everybody else is sleeping," Runnels added. "If a truck is running all the time, somebody is driving through the time when his or her circadian rhythm tells them it's time to sleep  — between 2 a.m. and 4 a.m. — so there is a possibility of more crashes during that time, and that might be looked at as well."
As in any shared living situation, there are bound to be tensions. The small space of a truck cab, where there is little privacy, can amplify this. 
Whether you drive with your spouse, friend, father or someone the company has teamed you with, respect goes a long way.
"Team driving forces you to change your driving habits a little," Runnels said. "When the other person is trying to sleep, you tend to keep the radio volume down. To not throw them out of the bunk you try to take the smoothest route possible, not be so hard on the brakes and avoid drastic moves."
Still, not everyone's driving style will mesh well, just as not all personalities get along. Runnels' top tip for dealing with conflict is to speak up early if you're experiencing issues with your co-driver.
"The longer you 'deal with it,' the worse it's going to get. It's not going to get better unless you have that conversation," Runnels said.
But, before you even begin your journey of team driving, you should reflect on your own personality and driving habits to see if it's suitable for the co-driving lifestyle.
"Know yourself," Runnels said. "If team driving is not something you're going to have a liking for, you probably shouldn't force it to make a few extra bucks. If you're open to it, it's a good way to really keep moving and you have an opportunity to make a good amount of money team driving."