June 30, 2023
Why are truck crash fatalities elevated?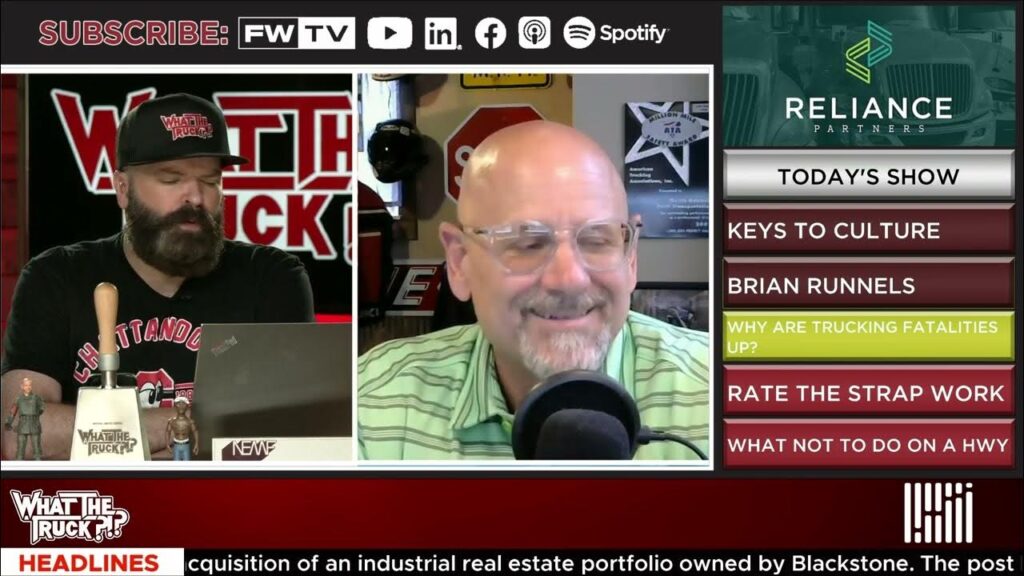 Reliance Partners' safety VP shares observations on industry trends that could lead to crashes
Traffic fatalities appear to be on the rise among large trucks — at least compared to pre-pandemic numbers.
According to the Federal Motor Carrier Safety Administration's Crash Statistics Summary, which reflects data from the Motor Carrier Management Information System, during calendar year 2019, the last year pre-pandemic, there were 5,082 fatalities as a result of crashes across the country involving large trucks. That number dropped slightly in 2020 to 4,988 then concerningly spiked in 2021 to 5,701 fatal crashes.
In 2022, the number dropped back to 5,230 fatalities. But this still means there were 148 more deaths, or a 3% increase, from 2019's pre-pandemic numbers.
Brian Runnels, VP of safety at Reliance Partners, a trucking insurance brokerage providing safety consulting, joined Dooner during Monday's episode of WHAT THE TRUCK?!? to discuss factors that could be contributing to the prevalence of crashes that result in fatalities.
"We're seeing a lot more aggressive driving out on the road," Runnels said. "That stemmed a few years when COVID was starting to wind down and people were starting to get more active. We saw a huge increase in vehicle traffic."
According to a projection by the National Highway Traffic Safety Administration (NHTSA) that encompasses all traffic on the road, in 2022, fatalities among all vehicle categories ticked up in 23 states while they decreased in 27 states as well as the District of Columbia and Puerto Rico per 100 million vehicle miles traveled.
Traffic fatalities totaled 42,795 across the U.S. last year, just under the 42,939 total in 2021 but still well above the numbers from 2020 (38,824) and 2019 (36,355), according to NHTSA.
Runnels believes the operational shift in where freight volumes are centralized could prove to be a contributing factor to the elevated fatalities. The American Transportation Research Institute (ATRI) observed a trend over the past decade of operations shifting toward shorter trips, also noted in its 2022 report.
"There are more trucks now in congested areas operating more miles in those areas than ever before," Runnels said. "You see distribution centers and manufacturing facilities going up all over the place around major cities. I think when you take that much equipment off of long haul-type freight and make it more regional, we're seeing drivers having to make a change in operation. They're hitting docks more to get unloaded and reloaded, so there's more pressure for them to get miles. I think that's all playing into the reason we're seeing an uptick in crashes and fatalities."
Runnels believes pay structure could be contributing to potentially unsafe driving behavior in some circumstances. Many truck drivers are paid on a per-mile basis, but recent reports show a drop in the average number of miles per truck. According to ATRI, the average number of miles per truck declined from 91,506 in 2019 to 79,808 in 2021 and sank again to 78,863 in 2022.
"It's getting harder to get miles. When your pay is mileage-based, that could be a factor that's causing drivers to push, companies to push, dispatchers to push, and trying to make revenue on those trucks. There is a certain amount of work that a truck has to do to pay for itself," Runnels said.
The top things that carriers can do, Runnels advised, is train and guide drivers. Defensive driving techniques that are widely available to the trucking community can help prevent crashes, and ensuring drivers understand the safety technology on the truck is paramount.
Finally, Runnels said, drivers should always take a step back from a difficult situation on the road and do what's right.
"Training and guiding the drivers is number one priority, defensive driving techniques and programs will work. It's so important to utilize and train on the safety technologies that you have on your truck. If the driver doesn't understand what they have and how to use it, it's not effective," he said.
To learn more about Reliance Partners, click here.