November 20, 2020
Knowing post-accident protocols can save you a bundle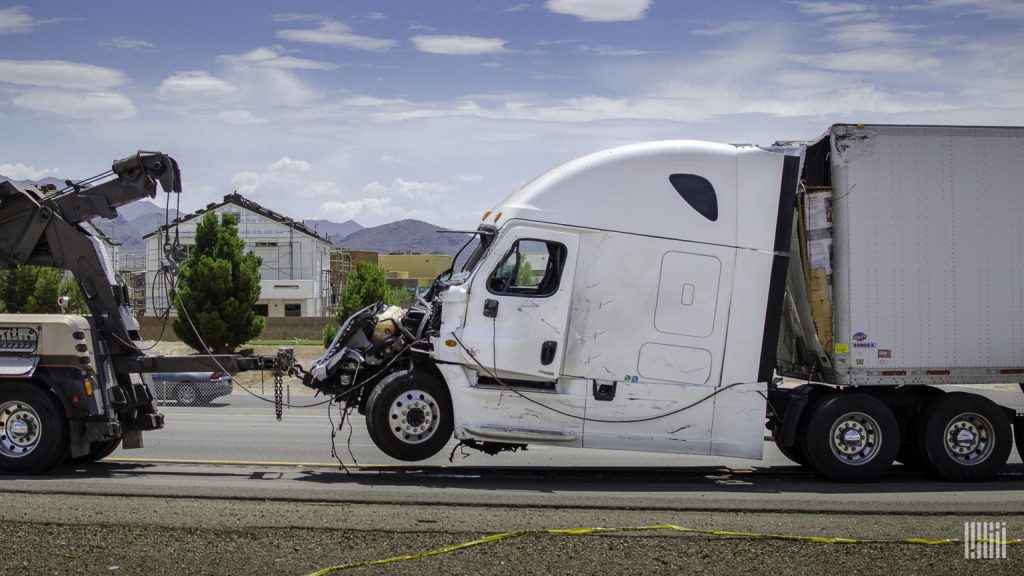 It's that time of year again — the time when frigid temperatures and icy conditions can compromise the roadways. Jackknives, rollovers, braking issues and other truck-related accidents are prevalent during winter weather, so it's best to take extra precautions heading into the colder months.
However, semi-truck accidents happen at any time of year for any number of reasons, so it's wise to drive safely and know what to do whenever an accident occurs.
Fortunately, most truckers go thousands of miles without ever experiencing an accident. While an impeccable driving record is impressive (and encouraged), does a lack of accident experience perhaps leave truckers inadequately prepared when a wreck does occur?
The steps to take after an accident are mostly common sense. However, a refresher on the basics wouldn't hurt.
First things first: You need to make a few phone calls — first to the police to alert them of the situation and then immediately to your insurance provider. It may also be a good idea to call your supervisor for further instructions. Until law enforcement arrives, you should remain at the scene of the accident, preferably in your vehicle if it's safe to do so.
While the police compile an accident report, drivers should document the scene as well. Take a handful of pictures of the truck, its surroundings and other vehicles involved. This will be very helpful for insurance purposes and possibly in the courtroom if wrongful accusations are made.
If you're hurt and unable to photograph the scene, Reliance Partners' Senior Director Of Business Development Nicole Guinn recommends getting a trusted person to do so on your behalf, especially before the accident is cleaned up. She warned that once a wreck is towed away, it might be hard to prove when damages occurred.
Another issue that truckers must be aware of is theft. When your truck is being hauled away, keep in mind that it may change hands between multiple parties before it gets back to you. She urges truckers to take their personal belongings out of their vehicle before waving them goodbye. This includes money and electronic devices such as cell phones, laptops, cameras and GPS devices. Guinn also warned that thieves even go after more official items like the vehicle's title and license plate.
"If you don't list these items on the police report, then it's not there," Guinn said. "If you don't tell the police officer what's in that vehicle, then 'it was never there.' It will not be covered by insurance and it won't be considered stolen. If you are unhurt, grab a backpack, garbage bag or whatever to get everything out of your truck, because it'll go either to a towing company's impound lot to sit in the hot sun or head to a repair shop.
When it comes to towing your vehicle, beware of unnecessary costs. Guinn reminds truckers that they always have a say in who gets to tow their vehicle. Guinn added that state and local law enforcement agencies across the country have towing rotation lists of wreckers on standby to dispatch to the scene of an accident which is extremely helpful. "I always tell people that if you get in a wreck, even in your personal car, go ahead and decide which wrecker you're going to call and inform the officer of your decision," Guinn said.
You should keep a list of trusted wrecking companies in your truck to have on hand in the event of an accident — an easy step that'll save you money. For larger trucks especially, she recommends contacting large towing companies that operate a variety of wreckers for any size job.
However, larger fleets may already have contracts in place with specific towing companies. Guinn urges drivers to familiarize themselves with which companies to contact in case of an accident and suggests calling your supervisor when in doubt.
"Usually it's just an accident or misunderstanding; it might be a new driver who doesn't know protocol. Regardless, they're supposed to call their supervisor, who'll contact the towing company," Guinn said. "It can be a very costly misunderstanding."
Severe damage to a truck can take weeks to repair. Not only will repairs cost plenty, Guinn said, but inoperability can be especially devastating for smaller or one-man fleets. In situations like this, she suggests drivers look into rental reimbursement insurance. This coverage type will pay for the cost of a rental vehicle throughout the duration of the repair process.
"Having extra coverage for towing and for rental reimbursement is huge, especially for smaller  fleets," Guinn said. "I always tell them that they're only one breakdown away from losing your business. And if you look at it like that, that's huge. These truckers spend probably 75 to 90% of the week in their truck."