May 28, 2020
In the market for a used truck or trailer?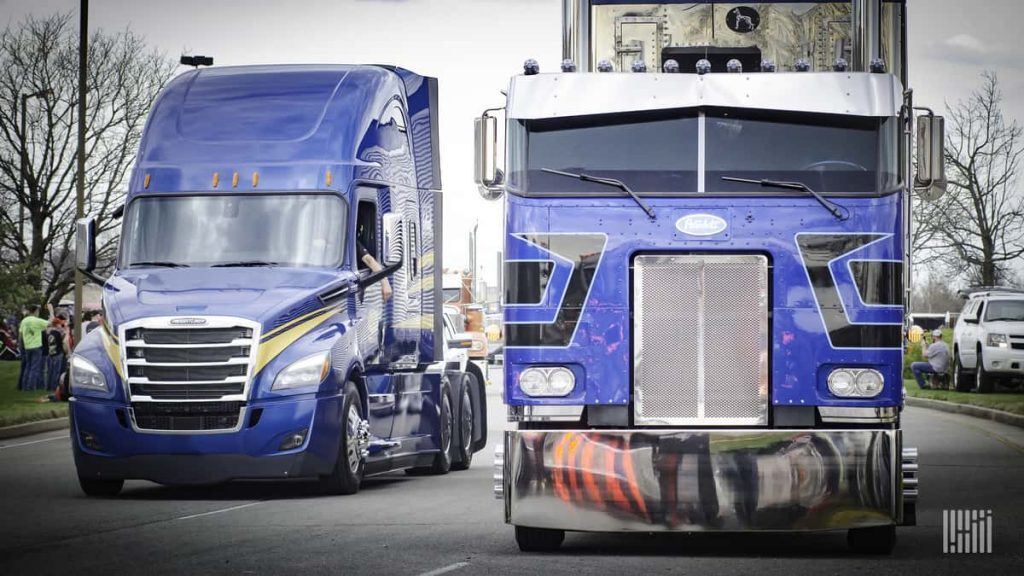 Those in the market to buy their own truck or trailer often face a binary choice – new or used. It's a question as old as the highways itself and one that permeates the minds of forward-thinking truckers.
Purchasing a truck fresh off the assembly line has its perks but can be expensive. On the other hand, used trucks lack certain elements of performance and safety but are considerably cheaper. While there are arguably many reasons to lean either way, one should be mindful of insurance costs before each purchase.
Insurance rates have become a major concern for trucking companies in recent years as payouts from "nuclear verdicts" stemming from fatal crashes have skyrocketed. In response, motor carriers have turned to their insurance providers for ways to achieve savings, especially when it comes to choosing the trucks and trailers of a fleet – whether that is a fleet of one truck or hundreds.
"When it comes to a vehicle's age, almost every insurance market prefers trucks 10 years or newer because newer models have the benefit of improved performance and safety records," said Reliance Partner's Executive Vice President of Sales, Ashley Hammonds.
From an insurance standpoint, buying new is ideal because of the low-risk factors, but having the honor of being the first one in the driver's seat is a luxury not everyone can afford. Thankfully there are hidden gems to be found throughout the industry's used markets.
"A friend of mine who's a sales manager at a Chattanooga truck dealership told me that the used market is 'unbelievable' at the moment," Hammonds said. "He added that it's been hard to sell a new truck recently but that he's selling used models almost every day."
This opens the door to a variety of options for those leaning towards buying used, especially first-time commercial drivers or smaller fleets unwilling to shell out $165,000 for a single truck. Hammonds said that around $30,000 to $50,000 can score a reliable used truck, perfect for drivers ready to break into the industry.
According to Hammonds, the "hot" trucks at the moment are ones built between 1997 and 1999 because they are significantly cheaper but still somewhat modern. He said that quite a few drivers even sought these models because they lack electronic logging devices, as well as EPA-regulated parts such as DPF filters and EGRs that have caused a lot of engine problems.
But how old is too old? For example, is a 1990 Volvo for $20,000 a steal of a deal? As Hammonds mentioned earlier, insurance companies prefer trucks to be within certain age parameters to qualify for affordable coverage. Older vehicles inevitably suffer from worn equipment and safety liabilities; the risks associated with frayed wiring and engine failure are just a handful of reasons why insurance companies charge higher premiums for at-risk trucks and in some cases deny coverage altogether.
"I highly advise those looking for a cheaper entry into the industry to look for vehicles newer than 15 years old," Hammonds said. "Those trucks are still able to receive reasonable coverage."
Hammonds said, to an extent, a vehicle's age can be a considerable factor in the pricing of auto liability, motor truck cargo and physical damage coverage. He explained, "Insurance companies like for everything to fit into a box. They want you to go on the same route and haul the same goods every day because they want to reduce your trucking company's liability as much as possible."
The same rules apply to used trailers, too. For instance, Hammonds suggested that the age of a refrigerated (reefer) trailer can have a great impact on premiums. Unlike flatbed and dry van trailers, reefers require routine maintenance checks and monitoring because mechanical failure can result in the loss of an entire truckload of perishable goods.
Insurance providers generally recommend purchasing newer and more reliable reefer models. In addition, Hammonds said that insurers tend to charge higher rates for temperature-controlled trailers over 10 to 15 years old.
"If you're hauling a reefer unit from 2005, insurance companies are going to charge you for that," Hammonds said. "They're going to tell you that the chances of paying out a claim on spoiled cargo are higher with a 15-year-old reefer compared to a 2020 model."
What about buying a used truck for non-commercial use? Most insurers have no problem with utilizing antique trucks for uses other than commercial hauling. In fact, Hammonds said that trucks with non-commercial purposes can receive coverage similar to that of personal vehicles.
Some purchase retro trucks for nostalgia reasons while others look to convert over-the-road classics for personal use. Hammonds said he's encountered many truckers who've re-fitted their big-rigs to be used as RVs.
"If you're looking for an antique truck, know beforehand that insurance will be difficult to receive, especially for vehicles built prior to the year 2000," Hammonds said. "Your box will be limited as to who'll be willing to insure you."
In a time when most truckers feel unable to tame rising insurance costs, those in the market for an additional truck or trailer should consult their insurance providers to understand how each purchase will affect their insurance rates.
It's best to reduce the costs you can control, starting with the equipment at the core of your operation. Reach out to Reliance Partners to learn more about the factors to consider before making your next utility purchase.