June 26, 2023
What makes your business a high insurance risk?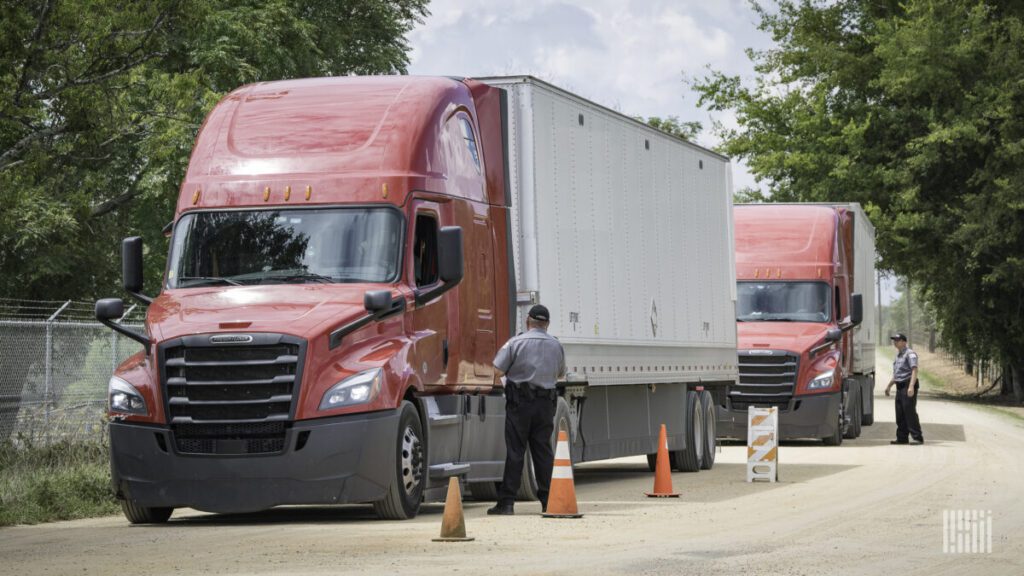 Controlling safety scores can help manage risk
Every time a driver moves a truck, there is some level of risk that an accident, injury or damage will occur. Even when the truck is sitting idle, theft, fire or storms could impact your vehicle, costing your business losses not only for repairs but for potentially missed productivity. These risks exist to some extent no matter how safe an organization is or what precautions it takes.
When the unexpected happens, carriers and drivers need a fallback to protect their investments, and for this, trucking insurance is necessary.
When it comes to truck insurance, companies may conclude that one company or driver's risk is greater than others for a number of factors. This could be for reasons that are more inherent in the nature of the business or other reasons that a company can actively work on improving.
Reliance Partners, a Tennessee-based freight insurance brokerage agency, is dedicated to helping carriers that qualify for high-risk truck insurance not only find coverage for their businesses' requirements so they can operate with peace of mind but provide them with the resources and expertise needed to lower their risk. Ultimately, less risk means better premium payments. 
What makes your company a higher risk?
Insurers take a number of factors into consideration when determining risk. One of those is the type and characteristics of freight being hauled — like hazardous materials, oversized or even high-value loads. A company could also be considered a higher risk if it's a new venture without a proven safety track record — or a driver is less experienced.
"The scarcity of drivers in this industry right now makes it very tough to find more experienced drivers," said Kevin Dupree, executive vice president of sales at Reliance Partners. "But many insurance companies stress the importance of having drivers with at least two years of experience. They understand pre-and post-trip inspections and road rules and have a better feel of the truck."
According to Dupree, safety is one of the most significant factors that insurers base rates on. For example, some of the background underwriters look at include: 
Poor Compliance, Safety, Accountability (CSA) scores.

High out-of-service percentages.

Conditional safety ratings.

High loss frequency.

Large shock losses. 
To underwriters, these past actions imply the potential for repeat occurrences in the future and a higher possibility of a claim later on.
Lowering your risk
One controllable way to lower your risk is by improving safety compliance.
Behavior Analysis and Safety Improvement Categories (BASICs) are the most significant data components used in the Safety Measurement System that factor into a CSA score. Data is pulled from past roadside inspections and crash reports, which affect BASIC percentiles compared to other carriers.
BASICs encompass the following:
Unsafe driving.

Crash indicator.

Hours of service compliance.

Vehicle maintenance.

Controlled substances and alcohol.

Hazardous materials compliance. 

Driver fitness.
Dupree said staying on top of drivers' hours of service logs to ensure compliance, consistent pre-and post-trip inspections for maintenance issues and even installing dashcams to monitor the vehicle are all examples of steps to take to begin to manage risk.
"Safety scores need to be monitored daily and weekly," Dupree said. "They can change halfway through the year. Once you begin to have more and more good inspections, your safety scores are going to improve. You'll see your insurance scores get better and pricing go down, which is big when you want to save money."
Reliance Partners is made up of industry experts who understand insurance, what underwriters look for, and how carriers can improve.
"We can sit down with any client, regardless if they have one or 1,000 trucks, and say, 'Underwriters see X, Y, Z, which is why you pay this price per truck.' If we work together, we can help improve your safety scores by implementing new vehicle maintenance plans or driver hiring standards that can eliminate a lot of those violations going forward."
Dupree also noted that Reliance Partners can help carriers to even remove violations they've received through DataQs, allowing them to improve safety scores.