March 5, 2020
The 6 Steps to Staying Ahead of Rising Commercial Truck Insurance Rates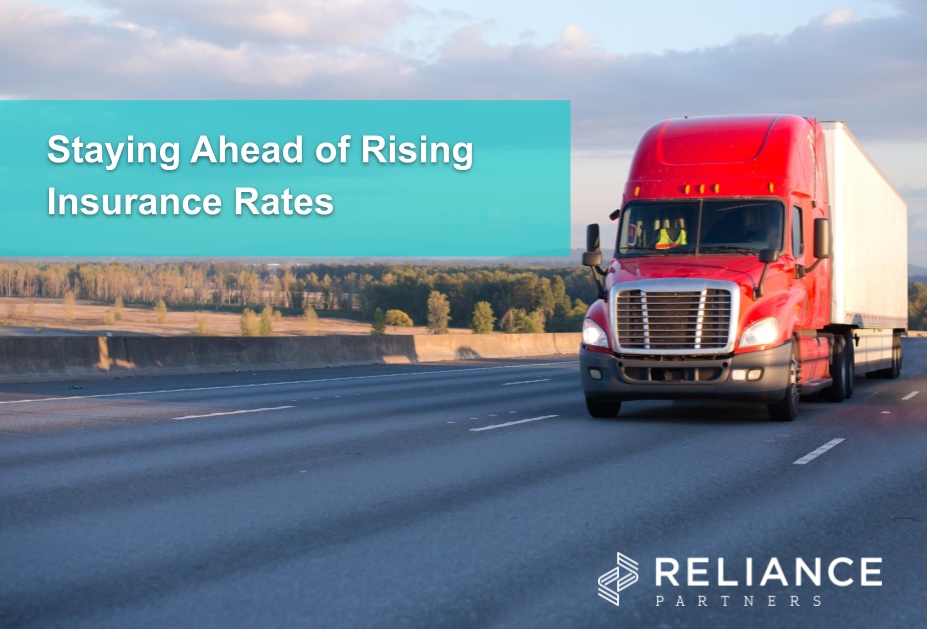 Trucking insurance is one of the largest expenses for business owners. Here's how you can stay ahead of rising costs. 
When buying insurance, it can sometimes seem as though premiums change on a whim.
But the truth about changing rates comes from a fluctuating insurance market that is cyclical in nature.
In a soft market, business owners can take advantage of broader terms of coverage, increased capacity, higher available limits and competition among insurance carriers for new business. But in a hard market, buyers are faced with increased premiums, diminished underwriting appetite, restricted coverage, and less competition.
While many business leaders have enjoyed the benefits of a soft market for years, several factors are causing commercial truck insurance rates to rise. Among them are catastrophic losses (such as floods, hurricanes, and wildfires) and higher than normal claim costs due to nuclear verdicts. In turn, underwriters that are struggling to overcome losses tend to exercise caution.
All in all, insurance buyers are facing difficult decisions regarding their insurance coverage. Here are 6 steps you can take to stay ahead of rising insurance rates:
Related Post: The Next Generation of Cargo Insurance: Real-Time and On-Demand.
1) Understand your insurance program.
You don't need to be an expert on your coverage—that's the role of your insurance broker—but you should always check to ensure your policies account for your business's greatest exposures. A firm understanding of your coverage also ensures you're not overlooking any exclusions. This knowledge will help you secure the right policy for your business. Ask your agent or account manager to review your policy with you and get the guidance you need on making adjustments as needed, especially during a hardening market.
2) Refine your risk management efforts.
Where possible, take the time to double down on your record management and loss control data. Doing so will make your business more attractive to insurers. Motor carriers without a safety manager or documented safety procedures can have a tough time securing favorable quotes. But your broker should be able to help you review existing policies and procedures. Ask your agent to make suggestions on how to get the information underwriters will need in order to get you the rates you deserve.
3) Know your loss history.
In a hard market, underwriters will be especially critical when reviewing loss trends. As a follow on from step 2, be prepared to explain the factors contributing to a specific loss. You'll also need to clearly explain the steps you've taken to mitigate future losses.
Related Post: Do I Need Trailer Interchange or Non-Owned Trailer Coverage?
4) Budget wisely and plan ahead.
In some cases, premium increases are unavoidable. Even in a soft market, business leaders ought to take insurance costs into account alongside their other normal expenses. Best practice dictates that the more time you allocate for the quoting and the renewal process, the more options you'll have. Your agent will also have a better chance at pricing the right solution and fine-tuning your policy if you're being proactive.
How do you know whether you're planning well enough ahead? That's based on your fleet size. As a rule of thumb, you should be reaching out to your agent at the following times:
1-9 trucks or power units: 45 days from your policy's expiration date.
10-50 trucks or power units: 90 days from your policy's expiration date.
50+ trucks or power units: 120 days from your policy's expiration date.
5) Work with the right insurance agency.
Motor carriers too often shop for insurance quotes like they shop for fuel. But changing agents and insurance companies each time you get a cheaper quote elsewhere are big red flags for underwriters. The reason? Insurance companies don't want to insure instability—they're always more willing to insure businesses that can demonstrate stability. That's why it's vital to have a trusted insurance professional advising your business. Partnering with a broker that has strong carrier relationships and undisputed knowledge of your industry can mean the difference between a hard stop to your operations and sustainable business growth.
6) Communicate early and often.
In order to understand how a hard market might affect your business, it's imperative to keep the communication channels between you and your agent open. Starting the renewal process early can also give your agency more time to secure the best coverage for your business.
Business owners who proactively address risk, control losses and manage exposures will be better prepared in and out of a hardening market than those who do not. Work with your broker now to prepare your business for changes down the road.