May 21, 2019
CVSA Roadcheck 2019 Guide: How to Prepare for This Year's Inspection Blitz!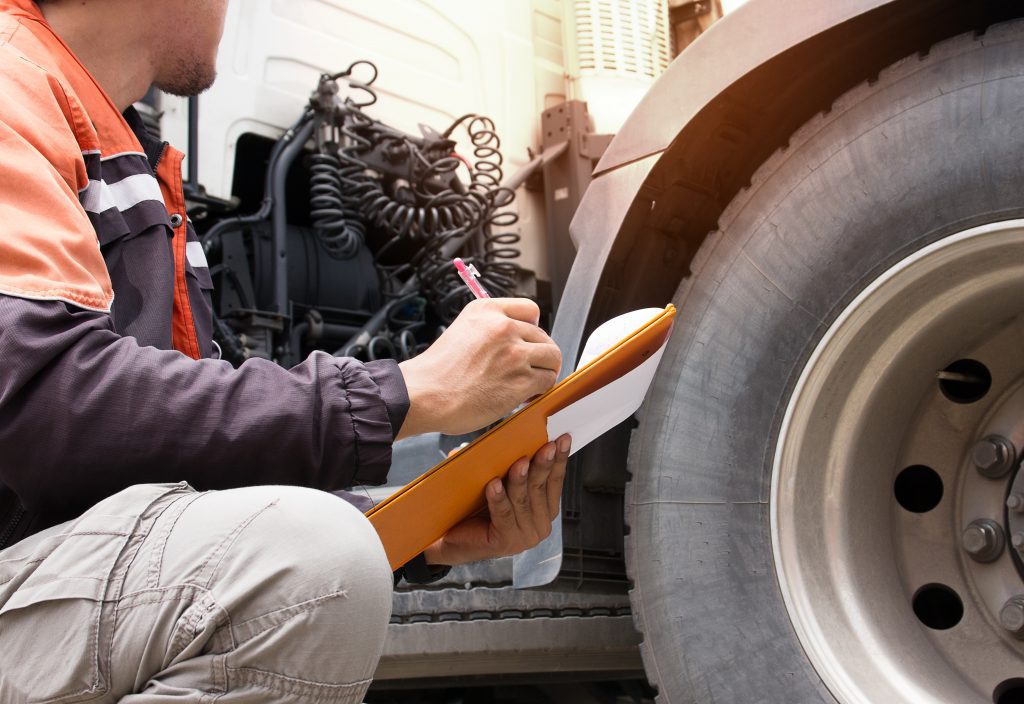 A roadside inspection may begin with a single visible violation, but doesn't always end there. The penalty points can add up quickly if the inspector conducts a thorough driver and vehicle review. The result? Lasting impact on your CSA scores and fleet safety assessments which, in turn, can affect your insurance premiums.
---

CVSA Roadcheck 2019
This year's Commercial Vehicle Safety Alliance (CVSA) international roadcheck, the largest enforcement program for commercial motor vehicles, will take place June 4-6 and focus on steering and suspension systems alongside general maintenance. During the three day event, popularly dubbed the 'inspection blitz,' truck drivers can expect to undergo a thorough examination of their vehicle and engine. Roadside inspections will take place at common inspection sites, weigh stations and patrol locations along major U.S. and Canadian highways.
According to the CVSA, an average of 15 vehicles are inspected each minute during the 72-hour period. Of the nearly 70,000 vehicles inspected in 2018, 22 percent were found to be in violation—so it's important to be prepared. To help your fleet get ready, we've created a Roadcheck 2019 Guide to get your drivers up to speed on what the CVSA commercial motor vehicle inspectors will be looking for during this year's inspection blitz.
This year's focus – Steering and suspension systems
According to the CVSA president Chief Jay Thompson, the decision for this year's focus was based on the implications steering and suspension systems have on commercial motor vehicle safety.
"Not only do they support the heavy loads carried by trucks and buses, but they also help maintain stability and control under acceleration and braking, keeping the vehicle safely on the road," Thompson said. "Furthermore, they keep tires in alignment, reducing chances of uneven tire wear and possible tire failure, and they maximize the contact between the tires and the road to provide steering stability and good handling."
Steering and suspension systems work in tandem to provide drivers more control over their vehicle. So, how does your fleet make sure its vehicles' steering and suspension systems are up to par?
Like any other part of your vehicle, these systems experience normal wear and tear and require periodic maintenance:
Make sure to service these systems approximately every 50,000 miles

Look out for unusual amounts of bumpiness on the road while driving.

Inspect the vehicle after too much drifting or swaying, or loose or hard steering.
If you or your drivers experience any of the above indicators, be sure to check the tire pressure first. But if the issue persists, have a mechanic inspect vehicle springs, fluid levels, brake rotors, shock absorbers, steering gear, and steering drive belt.
Understanding the different types of roadside inspections
During the inspection, safety inspectors will primarily conduct the North American standard level I inspection, but there are other types of inspections to prepare for, too.
Level I inspections are the most common and thorough of the CVSA inspections. They consist of a 37-step procedure that examines driver operating requirements and mechanical fitness.
Level II inspections consist of walking around with the driver and extensively examining every part of the vehicle except for the engine.
Level III inspections focus on driver credentials and paperwork.

Preparing for the inspection blitz
How can you or your fleet be best prepared for the upcoming CVSA inspection?
A good place to start is to have drivers conduct a pre-trip inspection on each vehicle prior to the Roadcheck 2019 inspection dates (conducting pre-trip inspections also helps to improve your CSA scores). Ask drivers to check vehicle tire pressure and tread depth along with a more thorough under the hood inspection of the engine and hoses. Though you won't be judged on tidiness, it's also not a bad idea to use the inspection as an opportunity to get your vehicle in good shape. Organize paperwork and belongings, wash truck windows, and remove any clutter or trash that's piled up over time. Make sure to also look out for obvious offenses like a broken taillight or cracked windshield. The vehicle inspection includes a 37-step-procedure that will examine:
Exhaust systems and fuel systems

Braking and electrical systems

Cargo securement, hazardous material, and cargo tank specification compliance

Coupling devices

Lighting device operations

Driveline/driveshafts and steering mechanisms

Emergency exit and windshield wiper operations

Van and open-top trailer bodies

Suspension, hub, rim, tire, and wheel assemblies
Preparing for the driver inspection
Communicating early on with drivers will leave everyone on your team feeling at ease not only about the upcoming CVSA inspection blitz, but also the safety of your team/company as a whole. Hold refresher training on things like inspection protocol and Hours of Service regulations to make sure everyone has all the information they need to successfully pass the inspection. Lastly, encourage drivers to organize relevant documents so they have everything ready to go for safety inspectors. Drivers will need the following:
Commercial driver's license

Medical Examiner's Certificate

Skill Performance Evaluation Certificate (if applicable)

Driver's record of duty status and vehicle inspection report(s)

Proof of Hours of Service (HOS) compliance
Although the roadcheck only lasts 72-hours, it might also be a good idea to alert customers of potential delays during the three day period. This kind of proactive communication is greatly appreciated and can make your company stand out from the rest.
CVSA Roadcheck 2018 results
Perhaps the best way to prepare for this Roadcheck 2019 is to familiarize yourself with last year's inspection results. Of the 67,603 vehicles inspected, the top five violations for out-of-service vehicles and drivers included the following:
Vehicle brake systems

Tires and wheels

Brake adjustment

HOS violations

Incorrect or invalid license
If a vehicle is found to be in violation of critical inspection items, it will be rendered out-of-service and prohibited from use until the mechanical issues are resolved. Similarly, if a driver is found to be in violation, he or she will be prohibited from driving until the issue is addressed.
Remember: inspections are conducted 365 days a year. The CVSA publicly announces the dates of this three-day inspection blitz to enforce safety and compliance. But no matter what day of the year it is, keeping your fleet or trucking operation informed on how to best prepare for roadside inspections is vital to the success of your business.
Download our Roadcheck 2019 Guide!